I've had a busy couple of days, so I'm a bit late to the game on both of these, but I still wanted to pay a brief tribute to two important men who have recently left us.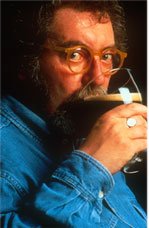 The first is Michael "Beer Hunter" Jackson, a man who was quite possibly the most read and respected beer writer the world has ever known. I must admit that I haven't personally read a lot of his work (my beer book library is somewhat lacking), but I do own his Great Beer Guide and Ultimate Beer, as well as his Malt Whisky Companion from my brief time as a self-styled Scotch aficionado, and I enjoyed many of his columns in various beer publications over the years.
But aside from what I've read and what I haven't, the fact is that if not for Jackson, today's craft beer scene would likely be much less interesting and vibrant than it is, and for that alone he deserves thanks and remembrance. If you check today's posts (and probably tomorrow's as well) at RSBS, you'll see that he's been getting a lot of both from beer bloggers around the world. Cheers, Michael.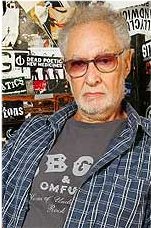 A bit before I heard about Jackson's passing, I read that Hilly Kristal had died on Tuesday from lung cancer. If your response to this is "who?", then you're not alone, as Mr. Kristal's name was much less famous than the name of the New York City nightclub that he opened in 1973: CBGB. Officially named CBGB & OMFUG ("Country Bluegrass Blues and Other Music For Uplifting Gormandizers"), the club moved away from its roots music origins quite soon after opening and was essentially the birthplace of punk and new wave, with artists like The Ramones, Television, Talking Heads, Blondie and Patti Smith making their earliest appearances on the club's stage.
Kristal stuck with the club through good times and bad, continuing to support underground music right up until a dispute with the building's landlord forced the club to close in October, 2006. Even after that, Kristal kept going, and was developing plans to open new CBGB clubs in other cities. Like Jackson, he kept his passion for what he loved with him until the end. I can only hope that people will be able to say the same about me when I'm gone.