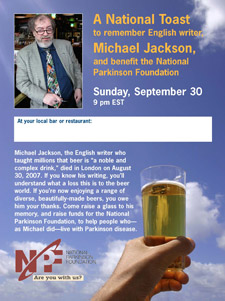 The beer-blog world is buzzing about yesterday's official announcement that plans have been finalised for A National Toast in memory of Michael Jackson. On Sunday, September 3oth, drinking establishments across the U.S. will be hosting memorial parties, with a nationwide toast at 9 PM EST, and proceeds to be donated to National Parkinson Foundation.
Plans are also starting to come together for non-Americans, with one pub in England already on board. Nothing has been announced for Toronto yet, but I expect a couple of places should have plans announced soon. Volo is holding a special pre-Cask Days event earlier in the day on the 30th, so perhaps they can do an early toast to Mr. Jackson.
For those in non-U.S. locations who want to set something up at their local, Alan has put together a list of a few Parkinson's organisations in various countries.