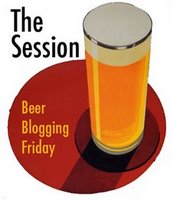 I'm sure my tens of readers will be happy to know that I'm still alive. I've just been even more busy and/or disorganised than ever these past few weeks. Hence the continuing lack of posts.
I couldn't miss a Session, though. If I did, they might take away my membership in the sooper-seekrit beer bloggers cabal or something.
The theme of this month's edition – as chosen by the poetically-inclined Captain Hops at Beer Haiku Daily – is Beer and Food, which gives me the incentive to finally get around to posting about an interesting tasting I hosted a couple of weeks ago in a somewhat unlikely location.
To begin at the beginning: I'm pals with Jamie Drummond, the head sommelier for the restaurants and catering service owned by renowned Toronto chef Jamie Kennedy. We actually met a few years ago, not long after Jamie moved here from Scotland, when we were both involved in the local electronic music scene. We lost touch for a while, but then our paths crossed again earlier this year at a food event I was covering for Taste T.O., and he's been doing his best to get me into trouble ever since.
A few weeks back, he asked me if I'd be interested in presenting a beer tasting at The Spoke Club, a private club where he's a member. I was a bit hesitant at first, as I'd never stood up in front of a group of people I don't know to talk about beer. But then I figured that I've done enough talking about beer with people I do know (more than most of them would like, to be honest) that I could probably pull it off. And since it was to be a small event in a private club attended by people well outside of my usual social and financial circles, I didn't have to worry about any friends showing up and heckling me.
Aside from telling me that the club wanted to do a beer tasting with appetiser-style food pairings, the details from Jamie were pretty sparse, so we arranged to meet with Spoke chef Hans Vogels. In the meantime, I decided that I would push for focussing exclusively on craft beers brewed in Ontario, and started to put together a list of potential beers. And when we finally met, I was pleased to discover that Hans was thinking on the exact same wavelength as me, and had some great ideas for dishes using local ingredients that would pair well with the beers that I had in mind.
With a rough menu sketched out, I got in touch with my friendly contact at the Ontario Craft Brewers to see if they would be interested in having some involvement, and a few emails later, I'd arranged for them to donate all of the beer for the tasting, as well as some take-home promotional material for the attendees.
The event itself took place on a Tuesday evening in the bright and airy Glass House lounge located on the roof of the Spoke. Aside from one slight hitch (more on that below), the beer arrived safely, and Hans and I presented the following menu to the 20 or so club members who attended:
King Pilsner
Geoduck Clam in Spanish Fried Rice
Sgt. Major's India Pale Ale
Organic Prosciutto with Mustard Pickled String Beans
Black Oak Nut Brown
Organic Tomato Soup with Pied De Vent Gratin
Mill Street Coffee Porter
Naturally Raised Beef Ribs with Potato Puree
KLB Raspberry Wheat
Short Bread Cookie with Raspberry Wheat Beer Sorbet
I didn't get a chance to try any of the food before the tasting, so I hoped that the pairings would work as well in our mouths as they did on paper, and generally, they did.
I like pilsners with pretty much anything, but they match especially well with seafood, and the crispness of the King Pilsner was a good foil for the slightly spicy rice. Similarly, the hops in the Sgt. Major's did a great job cutting through the salt and fat of the prosciutto and the spice of the mustard.
I was a little less happy with the Nut Brown/tomato soup pairing. We'd originally discussed having the beer paired with an onion soup – possibly including the Nut Brown as an ingredient – but a surfeit of tomatoes in the kitchen led Hans to make a change. It was a great soup, but the acidity made it not as solid a match for the malty, nutty ale as a rich onion soup would've been. The next pairing was a hit, though. Hans braised the melt-in-your-mouth delicious ribs in a couple of bottles of the Coffee Porter, so they paired perfectly with the beer.
Finally, the hitch I mentioned earlier: We'd planned to have Amsterdam Framboise for the final beer of the night, but Amsterdam wasn't able to supply it. Instead, they sent some bottles of their KLB Raspberry Wheat, a beer that I really don't care for. So I hit an LCBO on the way over to pick up a few bottles of the Framboise, and we added it as a "surprise" beer that was tasted side-by-side with the Raspberry Wheat. Most agreed with me that the Framboise is far superior.
So, the pairings ranged from good to excellent, and everyone seemed to enjoy themselves. Most of the group were newbies when it came to craft beer, and were surprised and pleased by the variety of beers that we sampled. As each beer was served, I spoke a bit about the style in general, and the beer/brewery in particular, trying my best to strike a balance between "informative" and "long-winded". Based on the feedback I got from a few folks at the end of the night, I think I succeeded. And despite a bit of initial nervousness, I had a great time as well.
Thanks for the great topic, Captain. Time to go have a look at what others have been writing.