Last week was a busy one for beer events in Toronto. This past Saturday and Sunday were the annual Cask Days at Volo, and the Ontario Craft Brewers held a media event last Thursday to launch their first mixed "Discovery Pack" and a bunch of holiday/seasonal beers. I'll have write-ups of both of those for you soon(ish).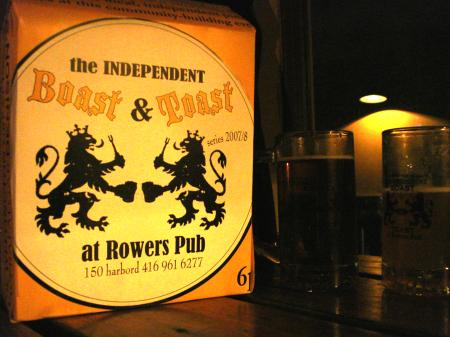 For this post, however, we'll be looking back a bit to the Independent Boast & Toast night held on Sunday, October 14th at Rowers Pub on Harbord Street. A fixture in the Annex neighbourhood for over 25 years, Rowers has never been known for having a great selection of craft beer on tap, but that was sort of the point of this event. Spearheaded by Russ Rowlands of the restaurant and bar consulting company Industry SOS, Independent Boast & Toast is planned to be a series of events that bring together local craft brewers with independent pubs that feature little or no craft beer in their line-up, with the hope that the pub owner will be inspired to switch at least a tap line or two after the event to something beyond the usual macros and mainstream imports.
For this first event, brewmasters and reps from Denison's, Wellington, Ste. Andre, Nickel Brook, Trafalgar and Great Lakes were all on hand to pour their beers and chat with the attendees. There was nothing new for me beer-wise, but a few favourites both old and new were available, and since it was an all-you-can-drink event, I did my best to ensure that the brewers didn't have too many leftovers to carry home.
There were also some nibbles on offer, including a squash and apple soup, spicy chicken legs, mini pulled pork sandwiches, and beef stew with mashed potatoes. According to the chalkboard, they were cooked using a white beer, a lager, a stout and an ale respectively, although I'm not sure which specific beer was used for each. Regardless, they were tasty, and did a good job absorbing the alcohol.
For a first effort at throwing an event of this sort, it was generally successful, although the turn-out was a bit lighter than Russ was hoping. I'm sure there were a number of reasons for this (it was a Sunday night; it was at a bar not known as being craft beer friendly; it wasn't completely clear in the advance promotion what the admission price covered; etc.), but still, it was a respectable crowd for a rookie happening. Hopefully, the series will continue, and the crowds will grow.
Unfortunately, the low lighting in the bar combined with my lousy photographic skills led to most of my photos of the night not turning out very well, but I was able to salvage a few: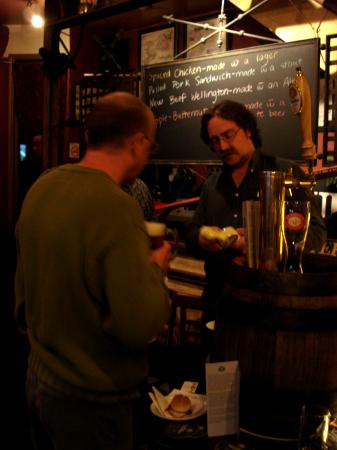 Michael Hancock of Denison's shows off a tap handle from the original Denison's brewpub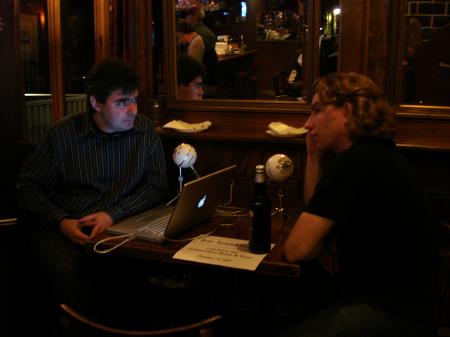 Cass Enright of The Bar Towel interviews Lindsay Key from Trafalgar Brewing for an episode of the Bar Towel Radio podcast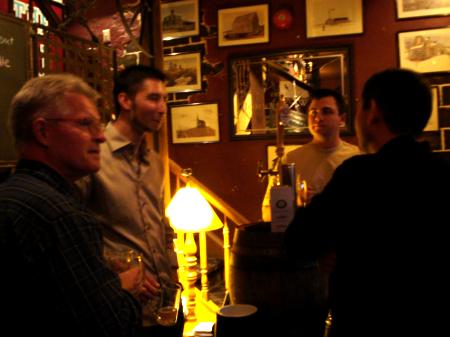 Event organiser Russ Rowlands (second from left) enjoys some Denison's Weissbier with a few attendees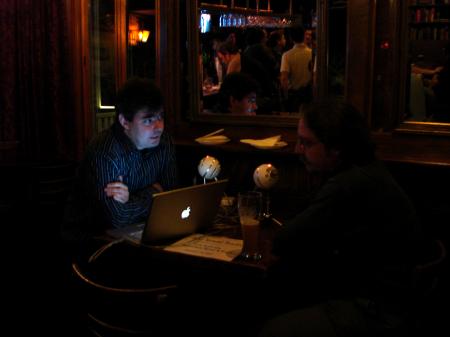 Cass interviews Michael Hancock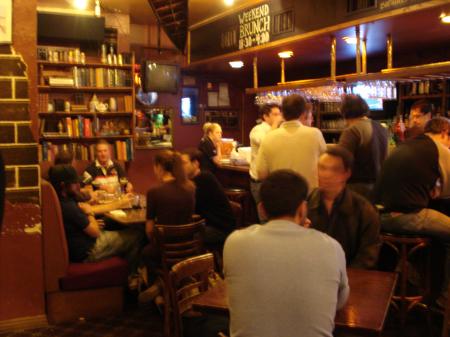 Some of the crowd