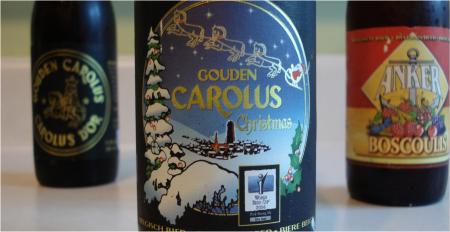 A while back, the fine folks at Roland + Russell importers set me up with bottles of a few of their newest offerings. Amongst them were two brews from Het Anker, the Belgian brewery better known for their main brand name, Gouden Carolus. Since I had a third Het Anker beer on hand at the time, and had recently sampled a fourth at a tasting session, so a rating round-up seemed to be in order.
Gouden Carolus Christmas
I'd tried this strong spiced ale a couple of times before, but I had no complaints about drinking it again. It pours a dark, hazy mahogany with a small mocha head. Big aroma that is sweet, spicy and herbal with some dried fruit notes. The flavour is quite sweet as well, with notes of cherry, pineapple, cinnamon, clove, dark malt and brown sugar. A great winter warmer – I almost wish I'd saved it to drink closer to Christmas. Almost.
Anker Boscoulis
One of the few non-Carolus beers from the brewery, this fruit beer has a slightly hazy ruby-amber colour with a good sized white head. The aroma is jammy, with tons of sweet berry notes, and some yeastiness lurking behind, and the mouthfeel is sticky. The flavour is sweet at first – very, VERY sweet – almost like liquid jam. But as it warms up, some tart and yeasty notes develop in the finish to help take the edge off. Still too much on the sweet side for my personal taste, but better than a lot of fruit beers I've tried.
Gouden Carolus Classic
A very fitting name for this one, as it truly is a classic example of a strong Belgian ale. Looks great in the glass – reddish-brown with a good sized off-white head. The aroma is warm, rich and sweet, with notes of malt, dried fruit and dark sugar. Smooth, full mouthfeel, and a big flavour of fruity malt, a bit of chocolate, some spicy yeast, and a slightly boozy finish. Lovely!
Gouden Carolus Ambrio
This lesser-known Carolus has a lighter colour, body and alcohol level than the Classic, but it's still a decent Belgian strong. It has a clear amber colour with a short white head, and the aroma is warm and sweet, with notes of caramel and rye whiskey. Medium bodied, with a sweet, yeasty, warm and peppery flavour. Probably the least complex of all the Carolus beers I've tried, but still very good.