Last year on Sunday, November 5th, I posted a review of Volo Cask Days 2006, two weeks after it actually happened. So it's only fitting that exactly a year later, I should post a review of Volo Cask Days 2007, two weeks after it actually happened.
Once again, Ralph and the crew at Volo outdid themselves with this year's festival. There were over 30 different cask beers available during three tasting sessions on Saturday and Sunday, plus a few rare and exclusive brews on draught, including three from the mighty Biergotter Homebrew Club. There was also a complementary cheese table courtesy of the Ontario Cheese Society, and plenty of tasty snacks from Alli's Bread to help absorb the alcohol. And of course, plenty of good company.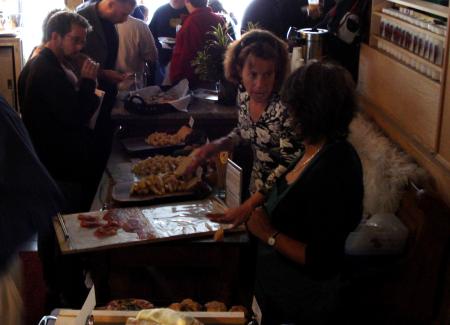 Unlike last year's review post, I'm not going to go into a lot of detail about the beers I tried, mainly because my tasting notes were pretty sketchy and I'm already written them up for RateBeer. I will say, though, that I agree somewhat with Stephen Beaumont's assessment of some of the beers being evidence of "an enthusiastic industry whose reach often exceeded its grasp".
While there were a good number of beers that I thought were very good – like Magnotta's weizen/IPA hybrid Fog On The Tyne and Perry's Atomic Punkin' from Scotch-Irish Brewing – there were also a few noble but failed experiments amongst the many offerings. I find that the qualities that make cask ale so interesting and appealing – lower carbonation, higher serving temperature, etc. – also make it less forgiving to beers that are unbalanced or flawed in some way. There were a couple of beers I tried that I would frankly prefer to drink on draught, where the rough edges would be tempered a bit.
But all in all, those are small complaints. Cask Days is still the highlight of the year in Toronto's beer scene, and I really hope Ralph keeps it going. October in Toronto wouldn't be the same without it.