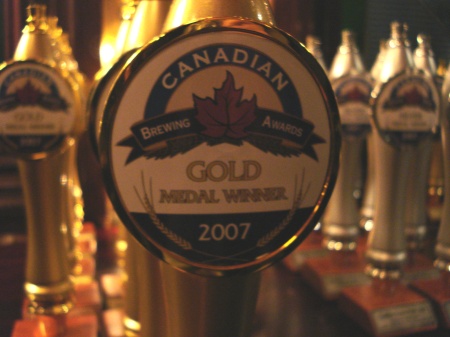 I am, I must admit, a downtown snob. I rarely go north of Bloor, except when I'm going to the Summerhill LCBO or the Granite. Any further than that, and I start to get antsy.
So when I found out that this year's Canadian Brewing Awards were being held at the Dub Linn Gate Irish Pub in Vaughan – aka "The City Above Toronto" – I nearly had a panic attack. Highways! Strip malls! No public transit! AIIIIEEEEEE!!!
OK, it wasn't really that bad. I just had to scramble a bit to bum a ride, but once that was arranged (thanks, Jeff!), I was looking forward to it. Even though this is the 5th year they were being awarded, it's the first year that I actually paid attention and planned on attending.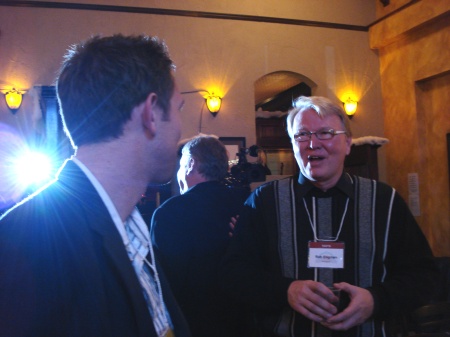 Rob Engman (right) of TAPSmedia chats with John Bowden of Great Lakes Brewery
It's also the first year that the awards are being run under the management of Rob Engman, the new(ish) owner of TAPSmedia, the company that owns the CBAs as well as the soon to be relaunched TAPS Magazine. (Full disclosure: I'm one of the contributors to the new TAPS.) Both the magazine and the awards suffered through some credibility problems under the previous ownership for a number of reasons, so Rob, his wife and editor Karla Dudley, and the rest of the TAPS team have been working their asses off to try and turn things around.
On the CBA side of things, they accomplished this by recruiting BJCP-certified judges to fill seven of the eight judging slots for the Awards. (The eighth slot was filled by Bill White, who may not be BJCP-certified, but you'd be hard-pressed to find many people who know more about beer than he does.) They also implemented a point threshold that all of the winning beers had to meet or beat, which means that some categories only had gold or gold & silver levels awarded rather than the traditional gold-silver-bronze. Small changes, perhaps, but enough to raise the bar somewhat, and they all bode well for the upcoming magazine relaunch.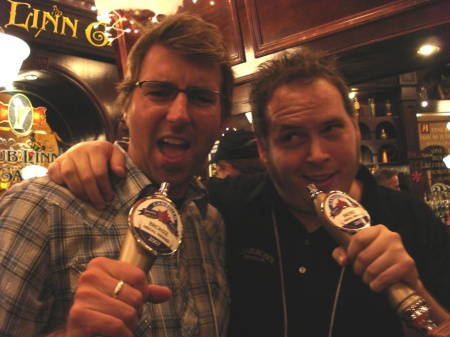 Someone apparently told Mike Laba (left) and Jason Ellsmere of Cameron's Brewing that it was the Canadian SINGING Awards…
Of course, all of the background tinkering in the world won't mean anything without a strong public face to the Awards. Thankfully, the event this past Wednesday night provided that, even despite a few obstacles, i.e.: a less than ideal location; the first winter storm of the year rolling in that evening; and the ridiculous AGCO policy that made it impossible for them to legally pour many of the out-of-province winners.
The awards ceremony was MCed by Kevin Brauch, who made up for the fact that there were very few acceptance speeches beyond "thank you" by peppering the night with stories, anecdotes, and occasionally tasteless jokes that were often rambling (yeah, we get it – Splügen is a funny and slightly rude name for a beer, no need to go about it for 10 minutes!) but mostly entertaining. Plus how can you not love a guy who quit his first brewery job because they made him work late on the night of a Ramones concert?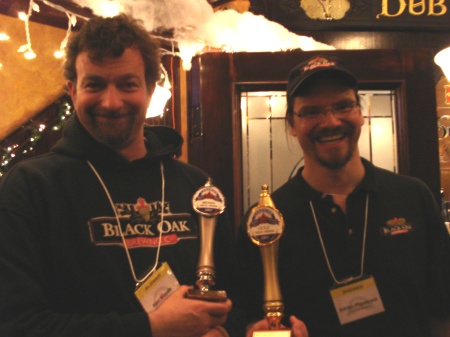 Ken Woods (left) and Adrian Popowycz of Black Oak are justifiably pleased with their two awards, including a gold for Nutcracker Porter
As for who won, there's a full winners list up at The Bar Towel and other places, so I'm not going to regurgitate it all here. Generally, I was impressed with most of the choices, at least based on those beers that I've tried. Although without knowing all of the breweries/beers that were entered, and those that weren't, I can't say that I'm definitively in agreement with all of the selections.
I know, for example, that Michael Hancock didn't enter his Denison's Weissbier, so I don't have a problem with Magnotta and Muskoka taking the awards in that category. On the other hand, I don't know if King Brewery entered their beers, but if they did, it would be a travesty that they didn't place in the awards for thier Pilsner.
And of course, there's the always controversial Steelback Brewery, who nabbed three awards: a gold for their Dark Lager, a silver for their Honey Brown, and a bronze for their Light. Unlike their wins at the Ontario Brewing Awards earlier this year, their trio of CBAs have yet to cause a major uproar in the beer geek community. I suspect that the recent ouster of Frank D'Angelo from the company has helped to lessen negative feelings towards the brewery, and those – including myself – who have tasted recent batches of Steelback beers in general, and the Dark Lager in particular, have to admit that the quality has improved tremendously from the original versions. Who knows: with some streamlining and perhaps a rebranding campaign, Sherman and son might just be able to turn things around in Tiverton.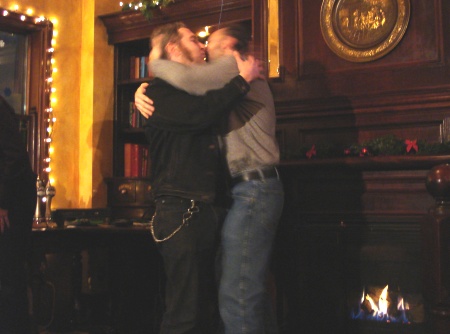 George Eagleson (right) of F&M Brewing gets a little too excited about his gold medal win for Stonehammer Premium Dark
It was nice to see the hometown boys at Mill Street take the Brewery of the Year award in recognition of their winning the most awards of the night with one gold, one silver, and three bronze. Great Lakes also made a good showing with four awards, including a gold and a silver (and they also brewed a one-off Sage & Spruce Winter Wit for the event), and local faves Black Oak, Cameron's and Magnotta each got a pair for their efforts. And I find it hard to question the choice of Garrison Imperial Pale Ale as Beer of the Year, as it's an absolutely fantastic beer that I would really love to see made available in Ontario sometime soon.
Having been involved in arranging events on a similar or even larger scale in the past, I know how tiring and frustrating they can be, especially when dealing with setbacks like the kibosh on serving the out-of-province beers. But even despite those problems, Rob and Karla and co. were cheerful and enthusiastic throughout the whole event, and they're already setting the wheels in motion to make the 2008 instalment bigger and better. In case they happen to be reading, here are my requests:
Move it downtown.
Convince the AGCO to allow you to pour the out-of-province winners.
Have better weather.
Yeah, OK, I know that one of those is impossible. But you should be able to take care of numbers 1 and 3, right?