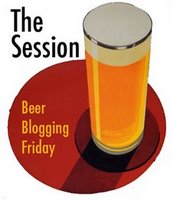 It's the first Friday of the month, and therefore time for another Session, when beer bloggers far and wide all make a post about a particular beer style or topic. This month, we're being hosted by tedo at Barley Vine, and he selected Winter Beers as the topic. A bit obvious? Maybe, but still enjoyable.
That being said – work and life and other things mean that I just don't have the time to write a full post today. So I'm going to take the lazy way out, and link to a couple of winter beer I've recently written for my Beer Of The Week column over on Taste T.O.: Wychwood Bah Humbug and Great Lakes Winter Ale.
(My columns through until the end of the year, and perhaps into January, will likely feature several more seasonal brews, so keep an eye on the site – or the handy "Greg's Taste T.O. Posts" RSS widget to the right of your screen – to catch those each Tuesday.)
Sorry for the lame-ass contribution. Check out Barley Vine for a round-up of all of this month's Session posts sometime in the next couple of days – I'm sure that most of them will be more interesting than this one.