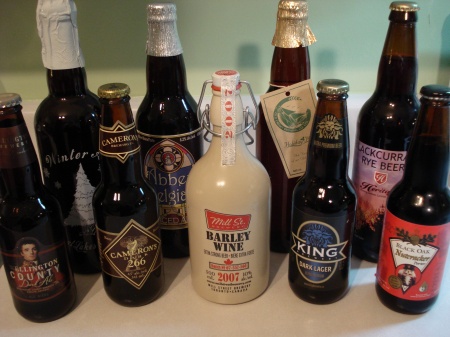 While it unfortunately arrived a bit too late to help me out with last Friday's Session post, I was happy to receive a media pack from the Ontario Craft Brewers the other day containing some winter seasonals and other brews conducive to cool weather drinking.
Now, I've admittedly been somewhat critical of some of the OCB's past promotional efforts, such as their rather mainstream "Discovery Pack" and the uninspired package that they sent out to press this past summer. But this new package is a serious improvement, at least in terms of variety. The eight beers in the package include Wellington County Dark Ale, Great Lakes Winter Ale, Cameron's Dark 266, Trafalgar Abbey Belgian, Mill Street Barley Wine, Old Credit Holiday Honey, King Dark Lager and Heritage Black Currant Rye Beer. Certainly better than a bunch of pale lagers.
(Yes, I know that there's also a bottle of Black Oak Nutcracker in the photo above. I added it for the sake of symmetry, and because I agree with Stephen Beaumont that it really should've been included in the package.)
Since I was sick all weekend and into Monday, I haven't had a chance to knock many of these off yet. The only one to be drained so far is the Mill Street, which I wrote up for my Beer of the Week column on Taste T.O., but the rest will be consumed and (hopefully) enjoyed in the coming days, and a review round-up will follow soon after.