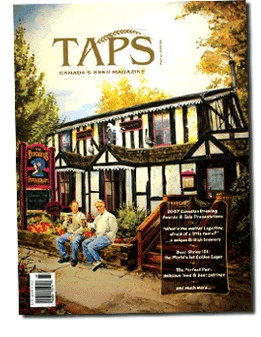 During my decade or so as a music writer and reviewer, I had my work published in a number of magazines around the world. I even spent a year or so as the editor of an electronic music section in Chart, a national music magazine here in Canada. Even so, I couldn't help but feel a little giddy when I received some copies of the first issue of the newly relaunched TAPS magazine this past week and saw the first print byline in my beer writing "career".
For those who familiar with TAPS from its previous incarnation as a frat-boy oriented mag filled with plenty of chicks and cars and other "lifestyle" articles, you'll probably be happy to know that aside from the name and a couple of contributors, the new version bears little resemblance to the old. As he says in his introduction, new publisher Rob Engman intends for the new TAPS to "focus on one thing… beer!".
My main contribution to TAPS is going to be a series of articles on beer styles. For the first instalment, I focus on pilsner, expanding on pieces that I wrote here and for Taste T.O. around the time of Pilsner Urquell's 165th anniversary earlier this year. Also new to the magazine, besides Rob and myself, are fellow beer blogger Troy Burtch; CABA member and legourmet.tv beer host Mirella Amato; and editor, photographer and writer Karla Dudley. Contributors remaining from the old guard include Bill Perrie, a writer of pub & beer guides who has visited more than 2000 pubs across the country; renowned brewmaster Bill White; and Kevin Brauch of Thirsty Traveller and Iron Chef America fame. Between the 8 of us, we've somehow managed to fill over 50 pages with lots of great content.
Like any new venture, the relaunched TAPS isn't perfect. The design is a bit busy in places – although I tend to like stark and minimal graphic design, so that complaint can probably be chalked up to personal preference. There's also a bit too much of an Ontario-centric focus to some of the content (I'm especially guilty of this in my own article, as I focus almost exclusively on beers available at the LCBO and Beer Store), although there are already plans to have contributors from the east & west coasts in the next issue, which should help it live up to the "Canada's Beer Magazine" subtitle. And on a personal note, I'm not really happy with the odd layout choice that was made with the end of my article (once you see it, you'll know what I mean).
In general, though, the new TAPS is a huge improvement over past issues, and it should only get better as copies make their way into the hands of beer drinkers and brewers across the country and more feedback starts coming in. Speaking of which: TAPS is available at Chapters and Indigo stores, via subscription, and if you're lucky, you might come across some complimentary copies at various pubs, bars, and other beer-friendly establishments. Please check it out and let Rob, Karla, and the rest of us know what you think.