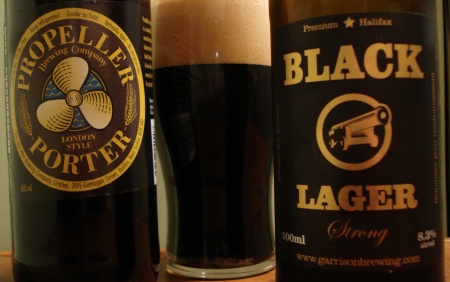 Like most people who live in Toronto, my wife and I weren't born here. My family is from Summerside, Prince Edward Island (although I only spent a few years there before we moved to a small town in Ontario), and Sheryl is originally from Halifax. We both ended up in Toronto around the same time in the late 1980s – although our paths didn't cross until a few years later – and while we both love our adopted home, we still feel some undefinable connection to the East Coast. Especially Sheryl, who didn't leave until she was 18, and therefore needs to tip her toes into the Atlantic every three years or else she'll turn into a lobster, or something like that.
Due to my honey's Haligonian roots, and my fondness for the city based on a couple of visits, we tend to keep an eye on the brewing scene out there, especially the wares of the city's two micro-breweries, Propeller and Garrison. We were pleased when Propeller made some inroads into the Ontario market a few years ago and got a couple of their beers into the LCBO and a few pubs – most notably the Nova Scotia-themed Duke Of Argyle, which sadly closed late last year. But their foray here was short-lived, and Garrison never attempted it at all (although given the somewhat variable quality of their brews in the past, that might've been a good thing).
But now, there are a couple of bits of good news for those of us who know that Keith's isn't the only Nova Scotian beer out there. Propeller has hooked up with super-duper import agents Roland + Russell to get their beers back into Ontario, with private orders starting soon, and a return to the LCBO hopefully to follow. And over at Garrison, they've brought in new head brewer Greg Nash – formerly of the acclaimed John Shippey's Brewpub – who has improved their existing products, and has added some pretty interesting new beers to the line-up.
To mark the Propeller deal, Vlado from R+R passed along a bomber bottle of their Porter. It had been at least a couple of years since I'd last had it, and it's just as good as I remembered. The full name is Propeller London Style Porter, which is fitting as I find some similarities to Fullers London Porter: dark brown body, long-lasting beige head, soft mouthfeel, and an aroma and flavour of well-roasted malt with notes of chocolate, coffee, licorice and smoke. It's a favourite of Sheryl as well, so I was glad when Troy over at Great Canadian Pubs & Beer hooked me up with a second bottle.
Speaking of Troy, he was also kind enough to slip me a bottle from his exclusive stash of Garrison Black Lager, an "Imperial Schwarzbier" released late last year in a limited run of 2007 bottles. I thought that Nash's Imperial Pale Ale was pretty damn good when I tried it in the fall, so I was expecting good things from this one, and it didn't let me down. As you can see from the photo above, this baby poured almost-black with a huge tan head that thankfully settled down pretty quickly, leaving some nice lacing behind. The aroma and flavour both hold dark roasted coffee, charred malt, dark sugar, smoke, dark bittersweet chocolate, and just a hint of booze. The body is full without being sticky, with a nice soft edge. If Troy weren't young and fit, or I weren't old and and fat, I would be tempted to fight him for the rest of his holding.