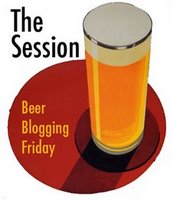 How sad is this: I'm so late getting my post up for this month's Session that not only did I miss the wrap-up post, but I also missed the post-wrap-up post. I guess this means that I don't have to go into any great detail about the barley wine style in general, since several others have already a good job of it.
Instead, I'll get right to the specific beer I choose, which was Legacy Ale from Buckerfield's Brewery, the brewpub at Swans Hotel in Victoria, BC. I wish I could say that I tried it at the pub in person, but sadly, I've yet to visit what I've heard it one of the most beautiful and beer-friendly cities in Canada. Instead, I enjoyed a bottle that was kindly passed on to me by Troy of the Great Canadian Pubs blog – who incidentally hopes to finally join in on the Session fun next month.
One thing that I like about barley wines is that a lot of them have a back story, whether it be a name taken from an historical figure, or a connection to some event or other that they were originally brewed for. Legacy Ale continues that tradition, as it was brewed in 2006 as a tribute to Michael Williams, a wealthy philanthropist who oversaw the redevelopment of a derelict area of Victoria – an area that includes the Swans/Buckerfield's building – and who left an estate after his passing in 2000 that continues to support area, as well as the arts and marine science studies at the University of Victoria.
From the sounds of it, Williams left a pretty big legacy, so it's fitting that he be remembered by a pretty big beer. It pours a very attractive ruby-orange with a small head that disappears quickly. The robust aroma has notes of sweet caramel malt, rum-soaked raisins, orange zest, and a warm and mellow hint of hops. The body is full and rich, and the flavour follows pretty closely on the aroma, starting quite smooth and sweet with dried fruit and caramel notes, and moving into a long, warm finish that reminds you this is an 11% ale. Over a year on from the December, 2006 bottling date, it's in fine shape, although I'm sure if I had another couple of bottles to stash away, they'd fare well for at least a few more years, if not longer.
Thanks to Troy for this much appreciated treat, and to Jon at The Brew Site for hosting The Session this month. Chris over at Beer Activist is hosting next month's instalment, and if you read his blog with any regularity, you won't be surprised to know that the theme will be organic beers. That's a segment of the beer market that is quite under-represented in Ontario, so I'll have to keep an eye out during my trip to Montreal next weekend to see if I can find a suitable brew or two.