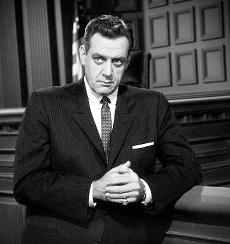 (No, not that Perry Mason. I'm talking about the one who makes beer.)
I've already been scooped by Troy and myself, but I still wanted to mention here the sort-of-sad but not completely surprising news that Perry Mason, the founder of Scotch-Irish Brewing, has left Heritage Brewing, the brewery that purchased the Scotch-Irish name and brands in 2006.
Here is his full announcement, as posted to the Bar Towel Forum this afternoon:
Hi folks,
Just a note to say that I am no longer with Heritage Brewing. I am now free to persue "other projects"
Although I may not be directly involved in the beer industry at present, I will keep a keen eye on what's going on and I will pop up at certain venues from time to time. Rest assured, I will be reading this essential resource everyday and I am not done in this business yet.
All the best,
Perry
Before the sale to Heritage, most Ontario beer drinkers agreed that Scotch-Irish was one of the best – if not the best – small brewery in Ontario, even despite the fact that Perry never owned his own brewhouse and contract brewed his main brands at Church-Key and other locations, while cooking up various experimental one-offs in his secret laboratory.
Following the buy-out, Perry no longer had any direct hand in brewing the core Scotch-Irish brands such as Sgt. Major IPA and Black Irish Plain Porter, and there have been complaints in some quarters that the quality of the Sgt. Major in particular has been variable since the change in ownership. But the Porter was a hit when released to the LCBO in the fall, and the seasonal John By Imperial Stout – with a recipe by Perry, but brewed by Heritage brewmaster Ancil Hartman – has gotten rave reviews since it was released in December.
A mad brewing scientist at heart, Perry has long dreamed of opening a brewpub where he can experiment to his heart's content, so here's hope that he'll be able to make that dream – or something like it – come true soon.