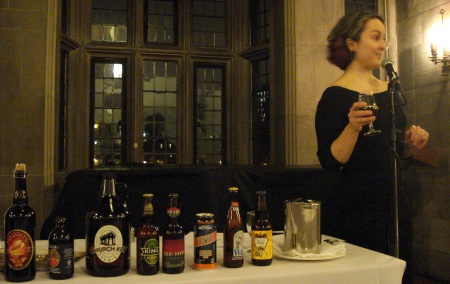 Last Thursday night, Hart House on the University of Toronto campus presented their first (and hopefully not last) Beer Academy event hosted by Mirella Amato, a woman who is a relatively new face in Toronto's beer scene, but a very knowledgeable one.
Attended by roughly 40 people – most of them beer newbies – the evening started with Mirella leading a 90-minute tutored tasting session featuring nine different craft beers:
King Pilsner
St. Andre Vienna Lager
Neustadt 10W30
Mill St. Wit
Black Oak Pale Ale
Church-Key West Coast IPA
Scotch-Irish John By Imperial Stout
Unibroue Maudite
Granite Brewery Gin Lane Barley Wine

As each sample was served, Mirella spoke a bit about the style and the brewery, and also touched on more general beer-related topics (history, ingredients, etc.) between each sample.
All attendees were also given an info sheet with a bit of info about each beer, including availability (LCBO, Beer Store, brewery) and some suggested food pairings. To help with the latter, the second part of the night featured a casual buffet reception, with more of all of the beers and hors d'oeuvre sized servings of the following tasty treats:
Jerk Chicken Drumettes
Grilled Italian Sausage
Grilled Flat-Iron Steak
Panko Crusted Chicken Skewer
Cassava Chips
Mini Venison Burger
Medjool Date Filled With Stilton
Chai Spiced Panna Cotta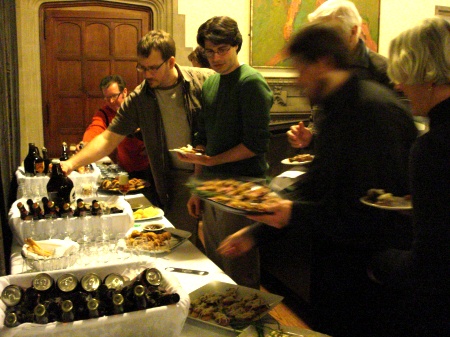 The food and drink events at Hart House are known for having a heavy focus on wine, with little or no attention paid to beer (I recall being offered two or three macrobrews as my only beer options at a holiday lunch there last year), so this event was a good step forward for them. Hopefully, it will spin off and improve their everyday beer offerings, as well as inspiring future beer-related events.
It's also worth noting that Mirella has just launched the website for Beerology, the umbrella name for her various beer-related pursuits such as writing for various publications (including TAPS), presenting the beer programming on the streaming video website Legourmet.tv, and of course, hosting guided beer tastings. Keep an eye on the site to find out what she'll be up to next.