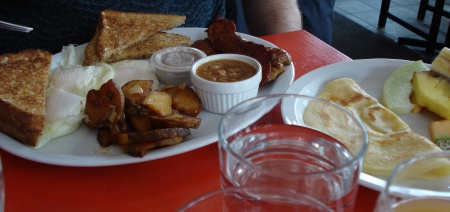 Saturday in Montreal found me suffering a slight case of The Morning After The Night Before, with an empty stomach calling for something tasty and a little greasy, so I was glad when Paul went out to grab a Coke and discovered a promising looking breakfast place just around the corner. Restaurant Mosaik (5201 St-Laurent) was, as the reviews promise, a perfect place for a hangover breakfast – a laid-back vibe, friendly staff, good coffee, and food that's a step up from diner fare without being too chi-chi. A nice touch was the inclusion of a serving of creton, a traditional Québécois pork pâté that I'd never tried before – horribly unhealthy, I'm sure, but really tasty on toast.
After breakfast (well – given the time, it was closer to being lunch), we took a wander around the neighbourhood and checked out a small location of SAQ, the provincial liquor store chain. Since beer is available in grocery and corner stores, the government-run stores don't carry much of it, but they're worth a visit to check out the selection of ice cider, a delicious beverage indigenous to Québéc that's filled with appley goodness.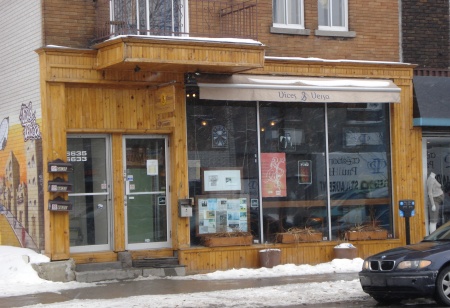 A bit more wandering, and then we headed towards Little Italy to spend some time at Vices & Versa (6631 St-Laurent), a beer bar and "bistro du terroir" that recently celebrated their 4th anniversary. We'd gotten advance advice from several people that we absolutely had to check this place out, and all of that advice was right – it was easily the highlight of our weekend. The space is big and airy but still cozy and comfortable; the food is perfect for a casual beer bar (sandwiches, small pizzas and cheese plates, all made fresh with many local ingedients); the music is fantastic (assuming you enjoy indie/underground rock); and most importantly, there are 29 taps, all dedicated to Québéc microbrews.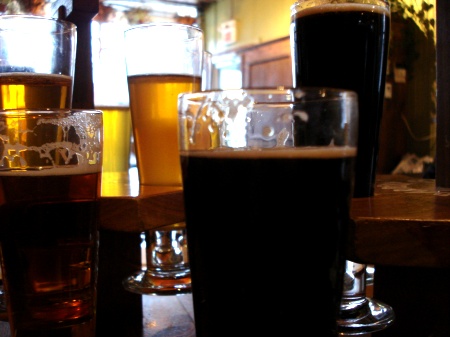 Meeting us at V&V was Fred Cormier from Microbrasserie Hopfenstark, a brewery based in L'Assomption (30 km from Montreal) that's been around for just over a year, but which already has a great buzz in Québéc. An extremely friendly and talkative guy, Fred filled us in on the story behind the brewery (short version: he was tired of spending so much money on beer, so he decided to start making his own), as well as explaining the names of some of their beers, many of which have a politically aware and socially progressive bent. V&V is his regular hang-out, and they have several Hopfenstark brews on tap, including their delicious Station 16, a saison brewed with rye, and one of four saisons made by the brewery. This relatively rare style is one of my favourites, so finding a brewery that makes four of them made me happy (although I'd be happier if I could buy their beer in Ontario…).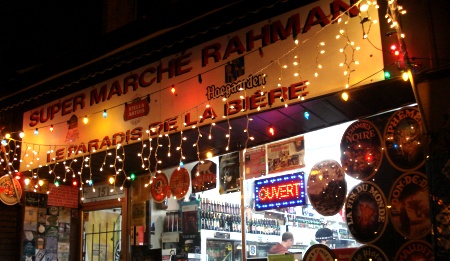 Fred headed out for some deliveries, and while we would've been happy to stay at V&V well into the evening, we had promised to meet some folks back at Dieu de Ciel!, so we eventually had to take our leave. Before settling in at DDC! for the final session, a couple of us headed down the block to Super Marche Rahman (151 Laurier ouest), a dépanneur that declares itself to be "La Paradis de la Bière". I'd call that a pretty fair assessment, as aside from pop, smokes, and a handful of other sundries, the entire store is filled with beer, mostly from Quebec microbreweries, and all available in single bottles. Our main goal was to pick up some of the bottled Dieu de Ciel! beers just in case our planned stop for the next morning was out of any of them, but we also snagged a few bottles of the just-released Unibroue 17 and a few other odds and ends.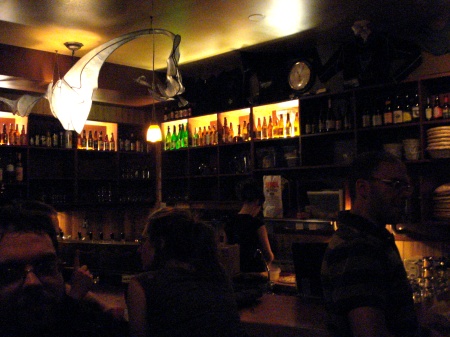 Finally, it was back to DDC! to settle in for the night. Dany from the night before joined us, as did Fred from Hopfenstark (who generously brought us an assorted dozen bottles of his wares to bring back to Toronto), some RateBeerians from New York who happened to be passing through town, and a couple of other locals that we knew. Much beer was enjoyed Рincluding numerous glasses of the heavenly P̩ch̩ Mortel Рand at some point in the evening, I ate what I thought was a prosciutto and brie sandwich, but according to my bill for the evening, it was actually an Ass Sandwich. Which appealed greatly to my inner Beavis and/or Butthead. Good times.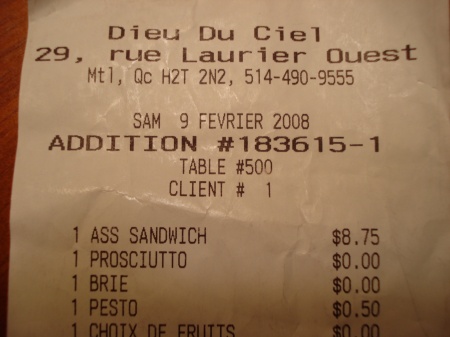 And we even managed to keep the drinking to a much more mellow pace than Friday, which meant that we all awoke at a reasonable time and in a reasonable state on Sunday, and got cleaned up, packed, and on the road by 9:30. Perfect timing, as we hit the borough of Verdun at 10:00, just in time for the opening of Métro Joannette (349 de l'Église, Verdun), a grocery store known for having the best selection around of Québéc craft beer. We all did the kid-in-the-candy store thing for an hour or so, and drove away with a very full trunk.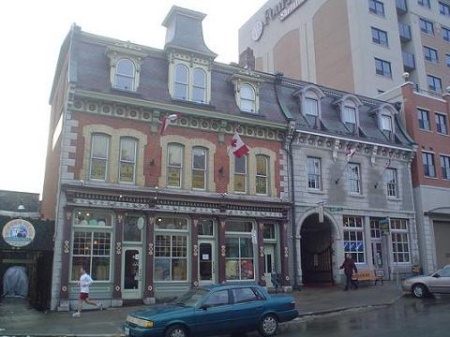 By mid-afternoon, we reached Kingston, and had a late lunch at the Kingston Brewing Company (34 Clarence Street, Kingston), Ontario's oldest brewpub. (Photo stolen from A Good Beer Blog, since I foolishly forgot to take any myself.) While I try to respect my elders, it must be said that many of the beers in the KBC line-up are mediocre at best. My favourite beer in the place was the Dragon's Breath Pale Ale, which isn't even brewed on site – it's so popular that they contract it out, with McAuslan currently doing the honours. (Not to start any rumours, but it actually tasted a lot like McAuslan's St. Ambroise Pale Ale to me…) Still, the place has a great atmosphere, with an immeasurable amount of brewery paraphernalia covering pretty much every surface, and the food is more than decent. Worth a stop if you're in the area.
After lunch, it was home to Toronto, where it only took me 2 weeks to get this second part of my trip report posted, which is actually pretty good considering my past track record. Watch for some follow-up posts with reviews of some of the beers I picked up on the trip. (I would say that these posts will be up "soon", but considering I have three other things to get around to writing about first, it'll likely be a while yet.)