(Yeah, it's a bit lame to be blogging about an event a full three weeks after it happened, but I had this half-written before computer problems and a bad flu put me out of commission for a while, and I didn't want to it go to waste…)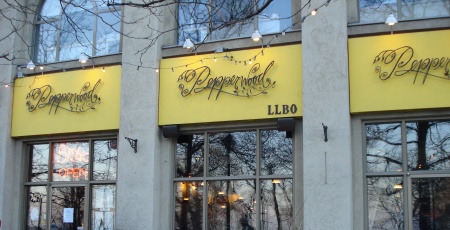 Located on the pretty waterfront strip in Burlington, about 45 minutes west of Toronto, the Pepperwood Bistro (1455 Lakeshore Road) is a bit of a hidden gem in Ontario's brewing scene. And a slightly odd one as well.
Brewmaster Paul Dickey is a well-respected BJCP Master Judge, former president and Grand Master Brewer in the Canadian Amateur Brewers Association, and former head brewer at Black Oak Brewery (where he still consults from time to time). So as you'd expect, he produces some fine beers at Pepperwood, including a rotating monthly series of specialty beers that tend to sell out within a few days of being tapped. At the same time, the somewhat conservative nature of the community means that in addition to the house beers, Pepperwood serves a selection of other craft beers, as well as Guinness and the standard InBev import line-up. Combine this with the fact that menu of chef Mike Middlemost is a bit more upscale than what you find in most brewpubs – specialities include gourmet pizzas, fancy pastas, and bistro fare like steak frites and mussels – and you end up with a not-too-typical beer bar.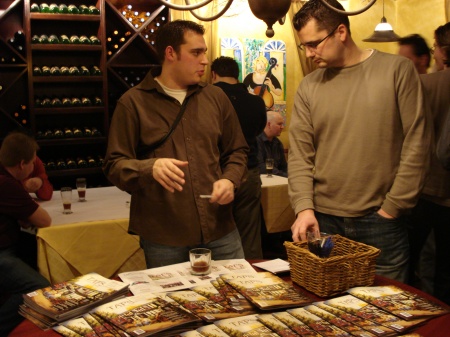 Since I don't drive, my only visit to the Pepperwood had been several years ago, when it was one of the stops on a Bar Towel bus trip to a few breweries and pubs. I'd always wanted to return, especially for their annual Pepperwood Beer Festival, but transportation and timing never worked out for me until this year, when Troy Burtch was driving out for the Festival on February 24th and allowed me to tag along. (That's Troy above, pimping TAPS Magazine at the Festival.)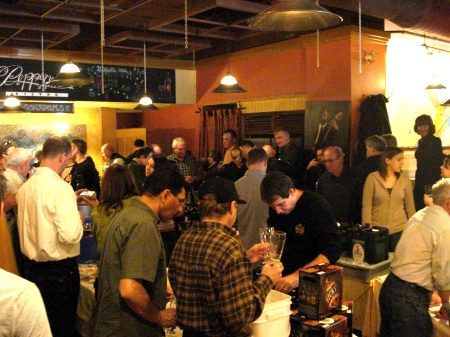 Since it's held on a Sunday afternoon from 2:30 until 5:00, this annual fundraiser for the Canadian Cystic Fibrosis Association is a pretty laid-back event, with a large but not too large crowd enjoying beers both new and old along with a great buffet of bar snacks (spring rolls, hot wings, pierogies, chili…). Paul was pouring an assortment of Pepperwood's usual house beers, plus a couple of one-offs including a cask version of his West Coast IPA and a surprisingly enjoyable Chipotle Ale. Also on hand were a solid contingent from the local craft brewing scene – Grand River, Black Oak, Trafalgar, F&M, Cool, Great Lakes, Mill Street, Nickelbrook & Denison's – and seeming somewhat out of place, a couple of beer babes in tight t-shirts pouring the Diageo line-up of Guinness, Kilkenny, Harp and Smithwick's.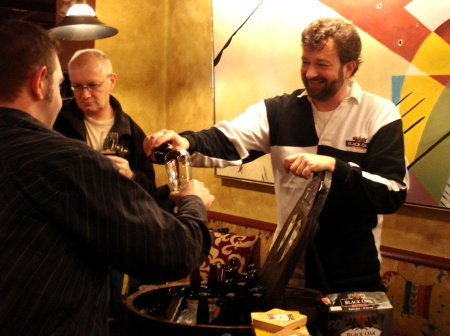 All in all, this was one of the more enjoyable Ontario beer events I've attended. I got to sample of few new beers and lots of old favourites, and it's always a treat to socialize with the friendly folks in the local brewing community like the above-pictured Ken Woods of Black Oak. A great event for a good cause, and a thoroughly pleasant way to spend a Sunday afternoon.