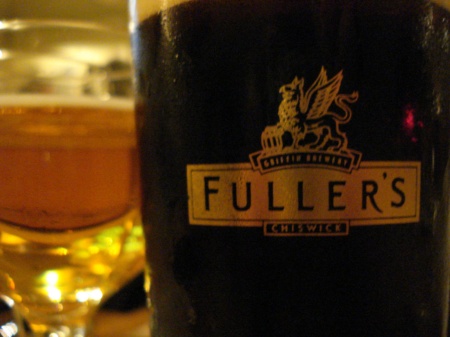 This past Tuesday, thanks to the fine folks at Premier Brands, I had the opportunity to attend a Fuller's Beer Dinner at the Duke of Westminster pub here in Toronto. The main purpose of the event was to mark the official launch of Fuller's Organic Honey Dew on draught in Canada (previously, it was only available here in bottles on a limited basis), and Fuller's Brewing Director John Keeling was on hand to talk about Fuller's and to introduce the beers that we sampled throughout the night.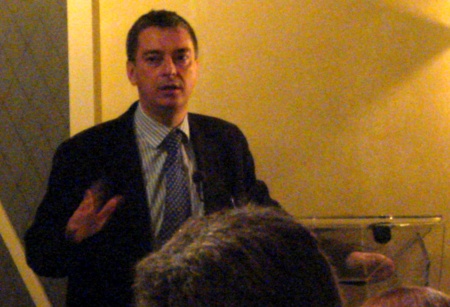 (Apologies for the poor photo of Keeling – it was taken from across the room.)
The evening started with a cocktail-style reception, where oysters and various hors d'oeuvres were served along with numerous half-pints of Fuller's London Pride – one of my favourite UK bitters, so I certainly had no complaints. I somehow found myself situated very close to the oyster bar (funny how that always seems to happen to me at these events…), so I had my fair share of tasty bivalves before we moved into the dining room.
Following an opening speech by Keeling (who is a very entertaining and witty speaker), the first course was served: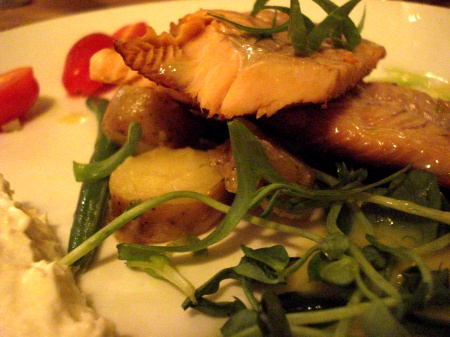 Ontario Smoked Trout
tossed French beans, fingerling potatoes, pea sprouts and chestnut honey dressing
beer pairing: Fuller's Organic Honey Dew
I'm a sucker for smoked fish, and the portion was quite large, especially for a starter, so I was extremely happy with this dish. As for the beer pairing, it wasn't quite as successful as it could've been, as the smokiness of the fish was a bit overpowering for the subtle flavours of the beer. Taken separately, though, they were both very enjoyable.
Next, the main course: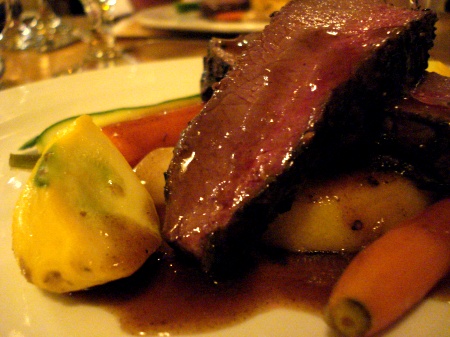 Slow Roasted Venison
grilled polenta and glazed spring vegetables
beer pairing: Fuller's ESB
It's been years and years since I've last had venison, so this was a real treat, especially since it was prepared so nicely. Being a lean meat, it's easy to dry it out during cooking, but this was served a perfect medium-rare and was quite tender. The polenta paired well with the meat, and the veggies added a fresh and vibrant note. My only complaint would be that the peppercorn crust on the venison was a bit overpowering, but the beer actually cut through that nicely, so perhaps it was intentional.
And then, everyone's favourite – dessert!: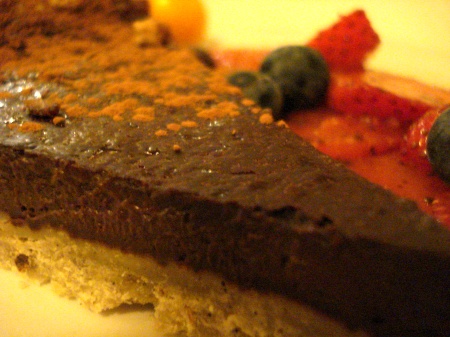 Bittersweet Chocolate Tart
served warm, dusted with cocoa powder
beer pairing: Fuller's London Porter
This was easily my favourite pairing of the night. A couple of people I spoke to afterwards thought that the cocoa in the tart was too strong for the beer, but I found that they complimented each other perfectly, and really brought out the coffee notes in the porter. A delicious final course.
After dessert, the servers came around with some tasty lemon shortbread cookies and the offer of coffee, tea, or more beer. I picked door number three, and got some more porter to try with the cookies. Not as good as the pairing with the tart, but still OK.
Finally, at the risk of being all name-droppy, I'll mention that after the crowd thinned, a few remaining souls – including Stephen Beaumont, Bill White, folks from Fuller's and Premier, myself and a couple of others – walked a few blocks to beerbistro for another pint or two. I had an enjoyable chat with John Keeling along with an enjoyable pint of Durham Hop Addict. Good times.
Next up on my busy beer calendar: The Brewer's Plate!