As I write this, there are just a few minutes left in Earth Day 2008, but it's not to late for me to mention that for beer drinkers, one of the best ways to help the environment any day of the year is to drink local. Every extra mile that a beer has to travel to get to you means an extra little bit of crap being pumped into the air. Plus closer usually means fresher, and with most beers, fresher is better.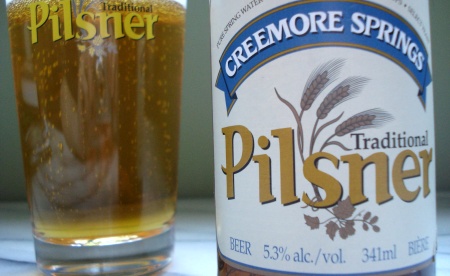 Speaking of fresh, "As Fresh As Fresh Can Be!" is the slogan plastered across the big Creemore Springs Traditional Pilsner billboard across the street from my apartment. And also fresh was the bottle of said beer that was hand-delivered to me (or rather, to my wife who was home at the time) last week, packaged in a cute little insulated bag along with a branded glass and a small ice pack to keep it cool. Good thing my wife doesn't like pilsners or it probably would've been gone before I got home.
Since she doesn't, and it wasn't, I re-chilled it and drank it, and found it to be a decent little pils, just as I did last year when the brand was originally launched and I wrote about it for Taste T.O.:
The colour is a clear yellow-gold, capped with a good sized snow white head. The aroma has some similarity to the Premium Lager, likely due to the same or similar yeast strain being used, but it's softer, with notes of bread, honeyish malt and zesty herbal hops. It's medium bodied, with a slightly sticky finish, which causes it to be not quite as refreshing as it could be, but still pleasant. The flavour starts off sweet and somewhat delicate, and finishes with grassy, herbal hop notes that get quite bold and dry as it warms up.
The point of the billboard and delivery, by the way, is to promote the fact that the previously can-only Pilsner is now available in 12-packs of 341 ml bottles at the Beer Store.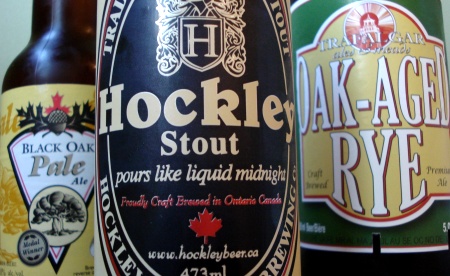 Also arriving last week was a curious mixed pack from the Ontario Craft Brewers, containing two cans of Hockley Stout, two bottles of Black Oak Pale Ale, and two bombers of Trafalgar Oak-Aged Rye. From what I can gather, this media mailout was meant to promote the fact that Hockley is now canning their Stout, Black Oak Brewery is soon to move from Oakville to Etobicoke, and the Trafalgar beer is part of the LCBO's current spring beer promotion.
The best part about this pack – aside from the fact that it meant six free beers! – was that I've already written two of them up for Taste T.O. columns, and the third for a RateBeer entry, so that makes this post very easy for my lazy ass.
Black Oak Pale Ale (from Taste T.O.):
It has a beautiful golden hue with a good sized white head that leaves a fair bit of lacing on the glass as it recedes. The aroma is fresh and inviting, with a big hop presence, but with sweet malt to balance, and a faint woodiness. The body is a touch thin, but also crisp and lively – quite likely due to the addition of a bit of toasted wheat to the recipe – giving the beer a thirst-quenching edge. And the flavour follows the aroma closely: a good balance of sweet, honeyish malt and citric hops that linger deliciously in the finish.
Hockley Stout (from Taste T.O.):
It has a deep black body with ruby tints and a massive off-white head that recedes fairly quickly. The aroma is mild and malty, with notes of wood smoke, coffee and vanilla, and the body is a bit thin, but has a slight creaminess which is nice. The flavour is full and very solid, with all of the characteristics I expect from a dry stout – good maltiness, a bit of coffee and smoke, and a dry, faintly soured finish – and the fairly low alcohol (4.2%) is right on the mark for the style as well. Quite frankly, this is the beer that Guinness wishes it could be.
Trafalgar Oak-Aged Rye (from RateBeer):
Golden colour with a reddish tinge and a small white head. Nice aroma of vanilla, bourbon and oak. Thinnish body. Flavour is somewhat one-dimensional, but still pleasant, with notes of wood and vanilla working well with the fairly light base beer. I've been disappointed by some of Trafalgar's off-centre beers in the past – they should deal with their quality control and infection issues rather than cranking out so many different styles of beer, IMO – but this is an interesting and enjoyable beer.
In relation to my criticism of Trafalgar's infection issues in the review above (and in earlier posts on this blog), I should mention that I haven't actually opened either of the bottles that I received in promo package (the review above is from a draught sample last summer), and their bottled product is where those issues are most often evident. I'm hopeful for this beer, though, given that the mentions of it on Bar Towel from those who have tried this batch have been generally positive, with no pickle juice comparisons. So maybe things are looking up for Trafalgar.