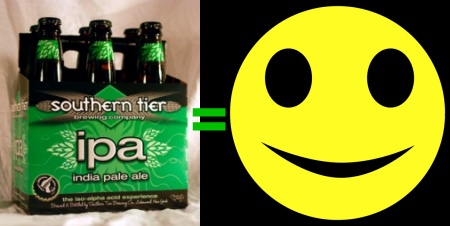 Those of you who don't live in a jurisdiction with a nanny state style liquor board will probably find this hard to believe, but the fact that Southern Tier IPA is soon going to be available on the general stock list at the LCBO is a Really Big Deal to Ontario beer geeks. For the past couple of years, we've had a grand total of three American craft brews available in our retail liquor stores – Brooklyn Lager, Sam Adams Boston Lager and Anchor Liberty Ale – so the impending addition of another fine beer from south of the border has made us happy. (Even better: it will soon be joined by Dogfish Head 60 Minute and Rogue Dead Guy Ale!)
To celebrate the occasion, Southern Tier's Ontario import agents Roland + Russell have arranged for brewery co-founder Phin DeMink and his brewmaster whose name escapes me at the moment to come up to Toronto for a couple of launch events this weekend.
The first is a dinner on Friday night at the Academy of Spherical Arts, featuring four Southern Tier beers paired with four food courses. Plus Phin and Mr. Brewmaster will be saying a few words, and there'll be some tag team MC/host action from Cass Enright of The Bar Towel and yours truly. At 75 bucks (all taxes & tips included) for a gourmet meal, several beers, free pool on the Academy's renowned tables, and the chance to see me make a complete ass of myself, it's truly the bargain of the year.
And if you're busy on Friday (or just a cheapass), there's a free admission "meet & greet" at Volo on Saturday from 5:00 to 7:00 PM, where the Southern Tier duo will be hanging out to chat, and several ST beers will be available to purchase and enjoy. (Yes, I know that the Roland + Russell event page says that it costs $20. That was the original plan – a $20 ticket which included beer samples – but it changed.)
Hopefully, we'll soon reach the point where a new American beer of quality coming to Ontario will be no big whoop. But for now, it's a great excuse to get together and do it up right. Hope you can make it.