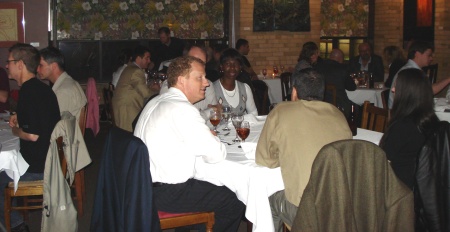 As usual, others have beat me to it, but I figure since I was a host and co-presenter of the Southern Tier beer dinner at the Academy of Spherical Arts last Friday, I should probably post a little write-up about it.
This was the first beer dinner presented by import agency Roland + Russell for one of their represented breweries, and while the turn-out was a bit lighter than they'd hoped (most likely due to the insane number of beer dinners that have taken place recently), it was still a great night. It definitely helped that the Academy is an absolutely gorgeous venue, and that the chef did a pretty fine job on the food and beer pairings. And having Phin DeMink and Paul Caine on hand from the brewery to speak and answer questions was a big plus as well.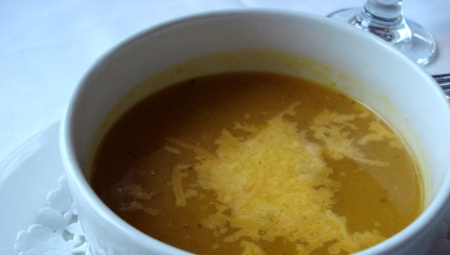 Butternut squash, roasted pear and cheddar soup
served with Phin & Matt's Extraordinary Ale
I'm a big fan of squash soup, and this was a particularly good one. The cheese pushed it over the top for me (much like bacon, many foodstuffs are improved with the addition of cheese – really, it's a fact!), but even without that addition it would've been a very flavourful and satisfying soup. The well-balanced Extraordinary Ale matched it well, with neither the soup nor the beer overpowering the other.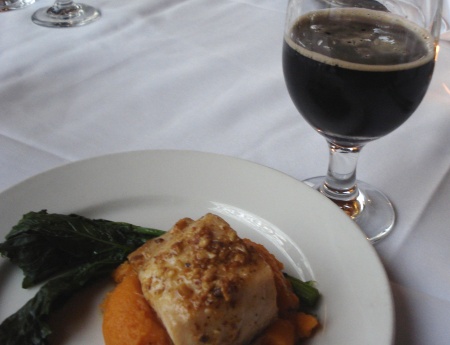 Baked black cod with sweet potato, rapini and a walnut butter sauce
served with Southern Tier Porter
I have to say that when I first saw the menu a couple of weeks ago, I was skeptical about this pairing. Matching a porter (or any darker, full flavoured beer) with fish just seemed illogical to me, in the same way that one rarely serves red wine with seafood. But the chef really pulled this one off, as the sweetness of the walnut butter sauce and sweet potato played against the porter fantastically. This was both my favourite dish and favourite pairing of the night.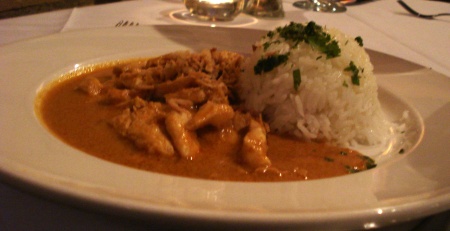 Spicy chicken panang with scented rice, crisp garlic and onions
served with Southern Tier IPA
While my digestive system generally hates me for it, I eat spicy food fairly often. Indian, Caribbean, Thai – I love 'em all. And pairing a great IPA with a heat-forward dish is always a hit in my books. That said, I found this dish to be exceedingly spicy, almost to the point where I couldn't finish it, which was too bad as the flavour that managed to fight through the heat was actually very nice. The IPA fought valiantly and managed to cut though the burning sensation somewhat, but by the end, I was mopping the sweat from my bald head and looking for a water refill.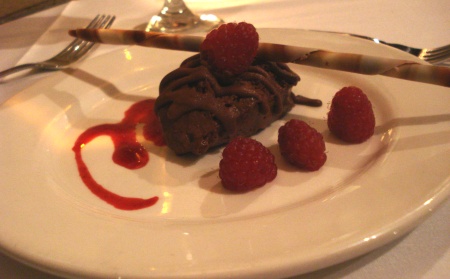 Bitter Chocolate mousse with fresh raspberries and sauce
served with Southern Tier Raspberry Wheat Beer
After the tongue-shredding temperature of the main course, this cool dessert was appreciated. And while I think Southern Tier's Raspberry Porter would've been a better beer pairing for the rich chocolate mousse, the Raspberry Wheat was pleasant, and crisp enough to help strip the residual heat from our mouths.
Food and drink aside, it was a great night for socialising with friends old and new. It was especially nice to see Alan "Mr. Crankypants" McLeod of A Good Beer Blog take the trip from Kingston to attend. Congrats to Liliana & Vlado of Roland + Russell for putting together such an enjoyable night and for all they've done to get the Southern Tier beers into Ontario. I look forward to being able to buy the IPA at the LCBO soon, and I'm glad to see the notice on their website that they're planning to bring in the forthcoming Cherry Saison and Crème Brûlée Stout on a private consignment basis this summer. Here's hoping they'll be able to do similar events with some of their other represented breweries in the future.