Working at the same place for almost 20 years generally means you get some nice perks (assuming you work at the sort of place that provides perks, of course), which is why I am lucky enough to have five weeks of paid vacation a year. The problem, though, is that I'm really slack about taking that time off. I rarely travel, and I generally enjoy my job, so taking a big chunk of time off at once usually isn't a priority for me.
So around this time every year, when I've only taken a handful of days off for short trips or appointments, I start to realise that I'd better start booking a few days here and there before I end up having to take the entire month of December off. Which is why I'm off work today (well, that and the fact that my wife, who works from home, it out of town today, so I needed to stay home to take care of our dogs who are a couple of spoiled brats that get a walk every 3-4 hours).
All of which is a long-winded explanation as to why I finally have some time to post something to this oft-neglected blog of mine. In fact, I might manage to get a few posts written today, although I'll probably schedule them to post sporadically over the next week or two in order to fill what is bound to be another lengthy gap before I get around to writing something here again.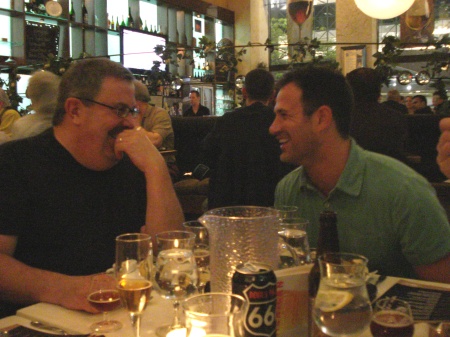 Today's topic: The stupendous Dogfish Head beer dinner at beerbistro that I attended way back on Wednesday May 28th. As others have noted, this was possibly the best beer dinner Toronto has ever seen, and it was certainly the best I've ever attended. Even DFH's Sam Calagione (pictured above right, along with Tom Peters from Monk's Cafe in Philly who made a pit stop on his way to Mondiale in Montreal) was completely blown away, and said that it was in his top three DFH dinners ever.
The spectacular meal from beerbistro chef Brian Morin and his stellar kitchen staff featured nine courses, all of them playful takes on classic comfort foods, and each paired with a Dogfish Head beer, plus a bonus beer at the end. If you know anything about DFH, you'll know that most of their beers are 6% and up, with some as high as 20%+, so it probably goes without saying that Thursday morning was a little blurry. But man, was it worth it.
Here's a review of what we ate and drank, along with some pretty pictures and brief comments: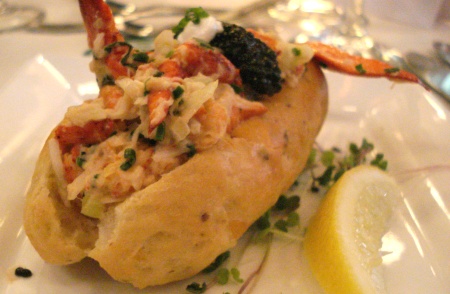 Mini Lobster Roll
soft white Chateau Jiahu roll, steamed lobster, pickled ginger, Jiahu mayo, sweet basil, chives
paired with Chateau Jiahu
Morin seems to like starting his tasting menus with a playful lobster dish – he did the same at last year's Brooklyn Brewing dinner. And as with last year's taco, this dish was generous with the lobster, not to mention the dollop of caviar that wasn't noted on the menu. The sweet and slightly earthy Chateau Jiahu was a good match.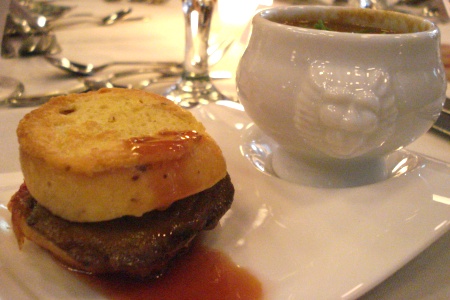 Soup and Sandwich
Quebec foie gras Monte Cristo, sour beer plum compote, Black & Blue B.C. chanterelle soup
paired with Black & Blue
Generally, I find foie gras to be overrated, but this preparation of it was absolutely delicious. It was seared perfectly, and the compote had a sweet/sour character that stood up to the fattiness of the liver. The soup was also fantastic, with a remarkably rich and intense mushroom flavour. Beerwise, I probably would've chosen a dark, malty ale over the fruity Black & Blue, but at 10%, it packed enough punch to be a decent pairing.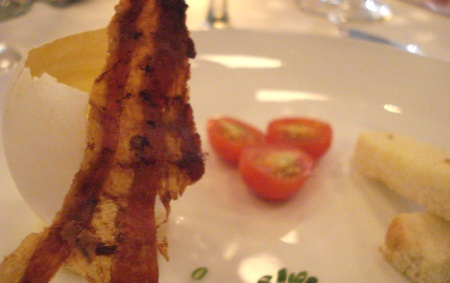 Bacon and Eggs
white truffle and parmesan custard, bacon crisp, toast soldiers
paired with Indian Brown Ale
The "custard" mentioned above was actually warm and runny, emulating a soft boiled egg for dipping the toast. I found the beer pairing a little odd – the roasty, nutty brew just didn't seem to mesh with the food for me. But then Troy suggested that maybe the coffee notes in the beer were what inspired the pair, since a cup of coffee is a typical drink with bacon and eggs. Interesting observation, and one that made me appreciate the pairing a bit more.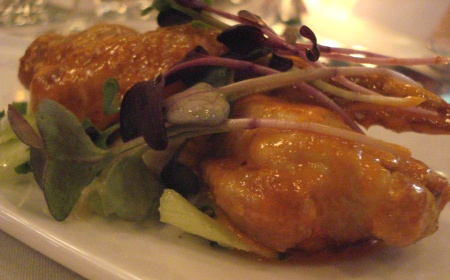 Buffalo Wings
confit chicken wings, Belgian blonde ale poached sweetbreads, chipotle wing hot sauce, blue cheese and leek sauce
paired with 60 Minute IPA
This was one of the favourites at our table, although at first, we could figure out where the sweetbreads were since they were visible on the plate. Ends up that the wings were hollowed out – i.e. the bones removed from the main part of the wing – and then stuffed with the sweetbreads. The chipotle sauce had just the right amount of kick, and the pairing of the 60 Minute was really a no-brainer, as there are few beers that go better with spicy wings than a nice, hoppy IPA.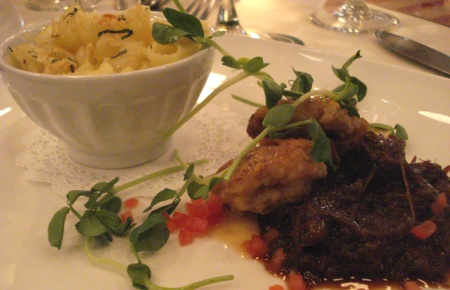 Tongue 'n Cheek Mac & Cheese
cod tongues, beer braised veal cheeks
paired with Raison d'Etre
This was an odd plate. Everything was really good, although some people were a bit squicked out by the deep fried cod tongues (me, I loved 'em!), and the veal was a tad too salty. The mac & cheese was also up there with the best I've ever had. But the three components just didn't seem to go together. They didn't completely clash, but they also didn't compliment each other in the same way as the soup and sandwich did, for example. But hell, they all tasted great on their own, so why complain? (Note: At this point, I gave up on taking any tasting notes, so I don't really remember how the rest of the food & beer pairings were…)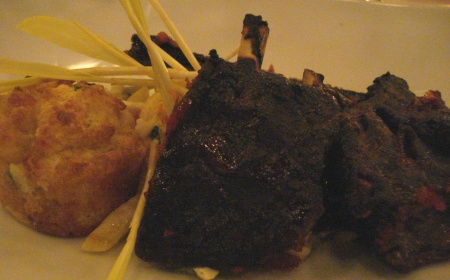 BBQ Ribs
Black & Blue cured wild boar ribs, Raison d'Etre BBQ sauce, jalapeno corn biscuit, mango slaw
paired with 90 Minute IPA
beerbistro does some of the best BBQ in the city, and this was no exception. Absolutely delicious, fall-off-the-bone ribs. Mmmm!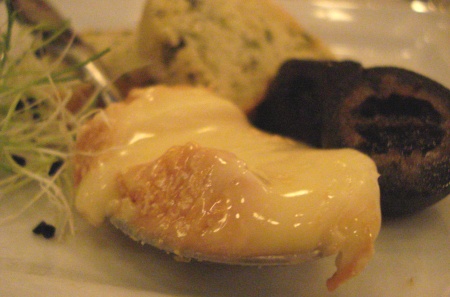 Broccoli and Cheese
L'Ami du Chambertin, roasted broccoli brioche, black walnuts
paired with 120 Minute IPA
L'Ami du Chambertin is a soft, buttery cheese from Burgundy, and it was heavenly when spread on the freshly baked brioche. And as for those black walnuts, they're an Eastern European treat (or so I've been told by a Russian friend – perhaps they're common elsewhere as well) made by putting young walnuts through a series of boils and soaks until they soften, and then boiling and preserving them in a spiced sugar syrup. If you get them in a jar with the syrup, they're fantastic on ice cream, but they're also a nice addition to a cheese plate like this one.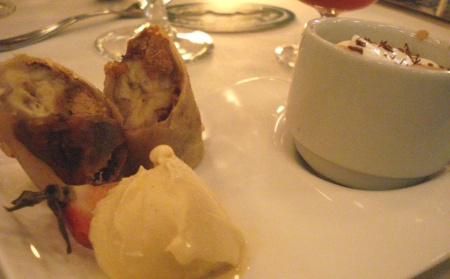 Peanut Butter and Banana
peanut butter chocolate stout cappuccino, Reese's peanut butter cup banana spring roll, Raison d'Extra ice cream
paired with Raison d'Extra
I don't think I can add anything to the description above, aside from "OMG!!!!!!11!!1!".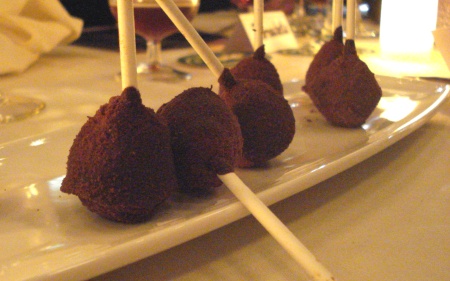 Raspberry Lollipop
paired with Fort
By this point, everyone felt a bit like Mr. Creosote, but no-one could resist these slightly more than wafer thin beauties which were essentially chocolate-raspberry truffles served on a stick. Despite my lack of notes, I do recall that the strong and fruity Fort was a beautiful match.
And then, when we thought it was all over, the surprise of the evening: a final serving of World Wide Stout to close off this truly outstanding dinner. As we sipped, Sam got up for this last of his several entertaining and animated remarks of the night, expressed his utter admiration for beerbistro and its entire staff, and pledged that he'd love to hold an annual DFH dinner there. Oh, we can only hope!