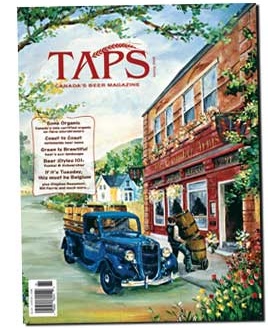 As I was finishing up my contributions to the upcoming Summer issue of TAPS magazine last week, it occurred to me that I'd completely forgotten to post a mention here back when the Spring issue came out back in early May.
So, here's the mention: The Spring issue of TAPS magazine came out in early May. A bit later than planned, but in the right season at least. And while it's still not perfect, it was a marked improvement over the Winter issue. The layout is less busy, are there are more contributors from across the country so it's less Ontario-centric. I'm still not a fan of the corny bar jokes that are sprinkled throughout as filler, and I think the order of the features still needs some tweaking, but all in all, it's continuing to move in the right direction.
While I'm on the topic of TAPS – as I mentioned previously, my main contribution to the mag is a series of articles on different beer styles, presented under the horribly unoriginal title of Beer Styles 101 (a title I came up with myself, by the way, so don't go blaming anyone else for it). Hopefully, most of my pitifully small blog readership will be buying copies of the magazine to read my scintillating words in print, but for those who have some sort of aversion to paper, I'm going to start reprinting each column here as following issue comes out.
Since the Spring issue is out now, here's my column from the Winter issue…
BEER STYLES 101: PILSNER
According to the official style guidelines of the internationally recognized Beer Judge Certification Program (BJCP), there are 80 different styles and sub-styles of beer being made today. These range from light lagers to pitch-black stouts; bocks to Belgian ales to barley wines; subtle lager/ale hybrids to mouth-puckering gueuzes and Flemish sours. And with the amount of experimentation happening at craft breweries around the world – most notably in the United States – it's probably safe to say that there are new styles and hybrids out there that haven't even been classified yet. Yes, it truly is a great time to be an adventurous beer drinker.
So why is it that an estimated 95% of the beer purchased and consumed in the world today is bland lager that is pale yellow in colour and light in body and flavour? It would take a lot more space than this column allows to dig into the numerous reasons for this, but one of the main ones is consumer knowledge – or rather, the lack thereof. The massive financial resources of the large breweries allow them to put forth a constant barrage of advertising and promotions telling people that beer is meant to be crisp, clean and cold, and no beer is crisper, cleaner or colder than their brand. Trying to push something different through the din has generally been an exercise in futility.
Thankfully, though, things are changing. As part of a larger trend towards better quality and artisanal food and drink, craft beer sales in North America are rising each year while the market share held by the big brewers is stagnant or dropping. More and more people are interested in trying new and different things, and more and more craft breweries and independent importers are coming forward to give those people what they want.
Given all that, it could be considered a bit ironic that this first instalment in a series of columns on beer styles should focus on Pilsner, as it was the world's first golden lager, and the style which begat the bland beverage that most people think of as beer today. But it is because of that influence that it's important to understand the Pilsner style as it is supposed to be: not a pale, lifeless, industrial product, but a truly classic creation that immeasurably changed the world of beer and brewing.
Before Pilsner was born, pretty much all beer was served unfiltered, most of it was dark in colour, and aside from in areas where the weather was cool, the majority of the beers being brewed were ales which ferment at a higher temperature than lagers. And since these dark, cloudy ales were often produced by brewers who had only a rudimentary knowledge of the science behind what they were doing, the resulting product was often of a questionable quality, to say the least.
In 1838, the citizens of Pilsen, Bohemia (now the Czech Republic) decided that they'd had enough crappy beer, and started dumping barrels in the town square to show their dissatisfaction. The town elders quickly took the hint, and plans were drawn up for a new brewery that would produce beer using the latest knowledge and technology from neighbouring Bavaria, where brewers had been experimenting with bottom-fermenting lager yeasts that produced beers with more clarity and consistency than top-fermented ales.
To help them implement these Bavarian brewing concepts, they also brought in a Bavarian brewmaster named Josef Groll who used the new techniques along with newly available pale malts to produce a beer with a clear, golden colour that was unique for the time. Combined with Pilsen's soft water and the use of Saaz hops, a variety known for imparting an inviting herbal aroma and a mild bitterness, the resulting beer was unlike any that had been made before, and it was a hit pretty much immediately after the first batch was released in November, 1842.
This golden hued lager with a well-balanced and refreshing flavour became known as Pilsner after the name of the town, with the name Pilsner Bier registered with Pilsen's Chamber of Commerce and Trade in 1859. But it wasn't until 1898 that it received the trademarked name that it still bears today: Pilsner Urquell, which translates to "original Pilsner".
As with any successful product, it didn't take long for knock-offs to appear. Throughout the later part of the 1800s, beers in the Pilsner style started being brewed through Bohemia. Those that have survived until today include Prague's Staropramen, first brewed in 1869, and Budvar (known as Czechvar here in North America), which was created in 1895 in the city of Budweis.
Back in Bavaria, several brewers created their own golden lagers based on the style that Josef Groll created. Even Groll himself found himself brewing back in Bavaria after his contract with Pilsen expired in 1845 and wasn't renewed. Due to differences in the mineral content of the water and other factors, the Bavarian versions tended to be dryer and leaner than the original, with the hops often giving the beer a grassy or lemony character. Now classified by the BJCP as German Pilsners, there are numerous examples of this style available to Ontario beer drinkers including Wernesgrüner, Radeberger, Warsteiner, Fürstenberg, König and Bitburger.
Of course, when it comes to most beer – especially the lighter styles – fresher is always better. So it would be neglectful not to mention that there are some world-class Pilsners being brewed right here in Ontario. Arguably the best of the bunch is King Pilsner from Nobleton's King Brewery. Owner and brewmaster Phil DiFonzo is a stickler when it comes to his ingredients, so he imports his Pilsner malt and Saaz hops from Europe, uses a Czech yeast strain, and even distils and remineralizes the water to bring it as close as possible to the soft water of Pilsen. The resulting beer is definitely similar to Urquell, but it also has enough unique characteristics to stand on its own.
Elsewhere in Ontario, several of the province's largest craft brewers have versions of the style available, with a couple of them being fairly new to the market. Brick Brewing in Waterloo launched the well-received J.R. Brickman Pilsner as part of their Founder's Series in the summer of 2006, and this past summer the Molson-owned Creemore Springs Brewery brought out a Traditional Pilsner that they intended to be seasonal, but which became a year-round offering when it proved to be a success. And of course, Toronto's own Steam Whistle Brewing have been making their namesake Pilsner in the historic Roundhouse near the CN Tower since 2000.
If you're more inclined to support the really little guys, there are a few of Ontario's smaller craft brewers in the Pilsner game as well. At select LCBO outlets, you can find 650 mL bottles of a Pale Pilsner from Mississauga's Old Credit Brewing and Harbour Gold Pilsner from Trafalgar Brewery in Oakville. And down at the Stratford Brewing Company, brewmaster Joseph Tuer has been crafting Stratford Pilsner since 2004.
As for the beer that began it all, the brewery in Pilsen has undergone many changes in the 165 years it's been around, including a controversial switch in the early 1990s from traditional oak brewing vessels to modern stainless steel, and buyout in 1999 by South African Breweries, now part of the multi-national brewing giant SABMiller. But through it all, Pilsner Urquell has survived as a top quality beer that is enjoyed around the world. Opinions vary on whether or not it's the best Pilsner available today, but it's still the original, and that's something that will never change.