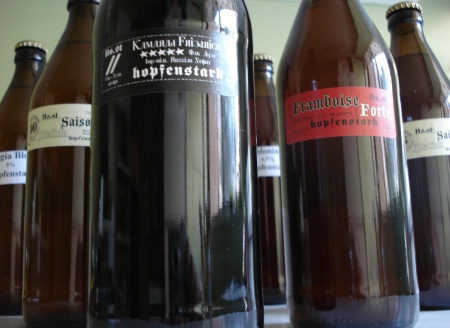 As I mentioned in my infamous "Ass Sandwich" post a while back, one of the highlights of my trip to Montreal in February was meeting Fred Cormier of Microbrasserie Hopfenstark. It was a highlight not only because he's a great guy with a lot of passion for beer, but also because he's a very generous guy who gave me and my travelling companions a box of beer to bring home with us.
I went through my share of the goodies soon after returning to Toronto, and have intended to write something about them here ever since, but lack of time and organizational skills have caused a delay until now. Below are my tasting notes from the half-dozen bottles I tried, as originally written for RateBeer:
Hopfenstark Ostalgia Blonde
Pours a light golden colour with a faint haziness and a good sized white head. Aroma is quite yeasty, with some herbal notes and a bit of apple. Body is highly carbonated at first, but calms down as it warms. Flavour is sharp and fresh, with notes of pepper, apple skin, yeast, juniper, and bitter herbs. A very unique beer with a lot more character than a typical golden ale.
Hopfenstark Saison Station 10 (Bière Sure)
Slightly hazy gold with a good sized white head that leaves lots of lace. Aroma is sour, lemony, with some yeast and slightly funky notes. Flavour – oh, yeah! – tart fruit (esp. lemon), yeast, spice, and some pleasant funkiness. Just fantastic, love it!
Hopfenstark Kamarad Friedrich – 5 Star Edition (Oak Aged)
Deep brown-black colour with a small tan head. Aroma of deep roasted malt, whisky, wood and smoke. A bit of cocoa and dark fruit in there as well. Body is a bit lighter and more carbonated than I recall the regular version being. Flavour is very good – roasty to start, developing some nice bitter licorice notes, hints of wood and smoke, a bit of vanilla ad bourbon, and some boozy warmth in the finish. Very nice indeed.
Hopfenstark Postcolonial IPA
Slightly hazy golden-amber. Fantastic aroma of sweet tropical fruit (pineapple, papaya) and firm resiny hops. Medium mouthfeel. Flavour is big and well-balanced, with sweet and toasty malts to hold up against the resiny citric hops. Finish is long and bitter, but not astringent, just really crisp and refreshing. Damn good!
Hopfenstark Framboise Forte Édition Spéciale (Oak Aged)
Light pink-orange with a slight haze, small head, and very still looking body. Awesome aroma – fresh tart raspberries with a hint of oak and a great funky edge. Medium bodied. Flavour is bracingly tart and dry to start, with some sweet woodiness filling out the middle, and a nice level of acidity in the crisp finish. Very, VERY good!
Hopfenstark Saison Station 55 (Bière Amère)
[Note: This is a blend of their Postcolonial IPA and Saison 10] Slightly hazy deep golden-amber with a small white head. Aroma of tart fruit, yeast, spice (esp. coriander), some hop tingle. Full mouthfeel, almost chewy, quite nice. Flavour is fruity off the top – apricot & peach – developing yeasty and spicy notes in the middle, finishing long and peppery. Blends of this sort can be a real crapshoot, but this one worked brilliantly, IMO.
And just because I liked all of their beers so much, here are a few others that I tried on draught while in Montreal:
Hopfenstark Blanche l'Ermitage
Golden colour with a slight haze. Aroma is rich and fruity – pineapple, orange, banana, apricot – with a subtle spice backing. Mouthfeel is soft and full. Flavour is just great – verging on a saison – with big fruit notes, moving into a pleasant herbal spiciness, and a moderately hopped finish. A really unique take on the style that I quite enjoyed.
Hopfenstark Kamarad Friedrich
Deep pitch black with a medium-sized dark tan head. Aroma is very dark and roasty, with some interesting fruitiness, and rich espresso notes. Full bodied. Flavour is sweet and warm, with well-roasted chocolate malts, dark roasted coffee, and a long, warm, moderately bittered finish. Booze is a bit too prominent in the end. Otherwise, a pretty nice impy.
Hopfenstark LouLou Porter 1920
Deep brown colour. Aroma of roasted malt, molasses, bakers chocolate and a bit of smoke. Light bodied. Flavour starts roasty and quite full, with some pleasant slightly lactic sourness in the middle, and a moderately dry finish. Could use a bit more body, but otherwise, a very nice porter.
Hopfenstark Saison Station 16 (de Seigle)
Hazy golden colour. Lovely aroma of herbs, apricot, and an odd hint of whiskey – probably from the rye. Flavour is quite herbal as well, with notes of orange and lemon, a faint yeasty funkiness, and a hint of pepper in the finish. Very nice!
I know there's still over half of the year to go, but I think it's safe to say that Hopfenstark will end up being favourite newly discovered brewery of the year for 2008. They don't have much in the way of distribution outside of Quebec (or even inside of Quebec, for that matter), but if you're in Montreal any time soon, keep an eye out for their stuff on tap at places like Vices & Versa, or plan a trip out to the brewery a bit east of the city. You won't be sorry.