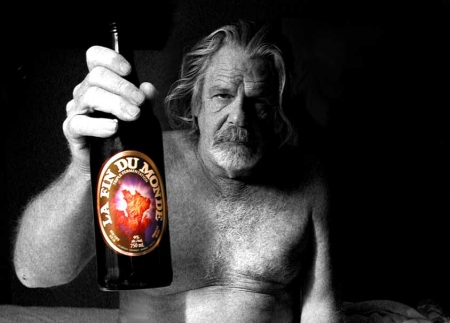 (Sorta creepy photo borrowed from evilloop.com)
The title of this post is a bit misleading, as Unibroue never actually went anywhere. But for the last couple of years, their presence was on the wane in Ontario. Their products were being delisted from retail outlets, and while Blanche de Chambly was still a popular draught choice at various in-the-know establishments, most of their other beers had all but disappeared. Quite simply, it seemed that parent company Sleeman (and their parent company, Sapporo) were more interested in expanding the Unibroue brands in the US market than in Ontario, which is somewhat understandable, given the relative size of that market.
Recently, though, there's been a definite push to re-establish Unibroue in Ontario. 750 ml bottles of several of their beers are now back on LCBO shelves, and a couple of events have taken place in Toronto recently that show they're serious about getting back to business.
The first was a trade event held at the end of May at Archeo, one of the swank restaurants in the picturesque Distillery District. The aim of the afternoon was to (re-)introduce the Unibroue line-up to representatives of the bar and restaurant trade, presenting them in a fine dining context. There were tasting stations set up throughout the space, each pouring a different Unibroue beer, alongside paired canapés such as lobster galette (with Blanche de Chambly), mini smoked meat tourtière (with Chambly Noire), and bitter chocolate & cayenne pudding (with Don de Dieu). Meanwhile, out on the spacious patio, there was a self-serve poutine station, with such hoity-toity toppings as spiced ground lamb, smoked chicken, and duck confit alongside the more traditional cheese curds and gravy.
The event also featured a presentation by Unibroue's Pascal Robitaille who spoke a bit about the beers and the brewery, and then presented a series of beer and cheese pairings which all attendees were welcome to try. Unfortunately, I neglected to take notes, but there was one pairing in particular – I think it was a blue cheese of some sort paired with Trois Pistoles served at room temperature – that was truly phenomenal. Everyone I spoke to was impressed with the beers and pairing ideas, and there seemed to be a lot of interest in getting the beers into their respective bars and restaurants, so I'll be looking forward to enjoying some Unibroue beers in new places soon.
One of those places is Piper's Gastropub, the casual dining restaurant at Toronto's Royal York Hotel, where they hosted a Unibroue Dinner in mid-June. Attendees were greeted with glasses of Blanche de Chambly and various hors d'oeuvre that fit in with the restaurant's Canadiana theme, including mini servings of poutine, Nova Scotia fish & chips, and Alberta beef with Yorkshire pudding, all washed down with glasses of Blanche de Chambly.
Once seated, the courses included a melon gazpacho with smoked duck paired with Éphémère Apple, pan seared sable fish with La Fin du Monde, chili-rosemary rubbed steak and braised short-ribs enjoyed with Maudite, and sticky toffee pudding served with Chambly Noire. I was seated with Stephen Beaumont and his lovely fiancée (and as I write this, very soon to be wife) Maggie, and as he notes in his more-timely-than-mine blog post about the dinner, the food was all excellent and most of the pairings worked well. But the three of us agreed that the dessert pairing fell flat, as the overly sweet pudding clashed badly with the relatively dry and roasty beer. The ingenious Mr. Beaumont found a solution, however, by blending some of the Maudite that we had left from the previous course with the Noire, giving it a bit more body and sweetness which made it a much better match.
It also needs to be mentioned that Pascal Robitaille was in attendance to represent the brewery, and kept us entertained with various stories and anecdotes, including a lengthy retelling of the Quebecois legend that inspired the name and label of Maudite. And in keeping with the blending theme, he and the Piper's team whipped up a post-dessert beer cocktail for everyone by mixing equal parts Blanche de Chambly and La Fin du Monde, which was a nice cap to a nice evening.
Given the fickle nature of large beer companies, it's hard to say how long Sleeman will continue actively pushing Unibroue brands in Ontario, but the immediate signs are promising. And also promising are the plans for Piper's to host more beer dinners in the future, including an Oktoberfest-themed event. Onwards and upwards…