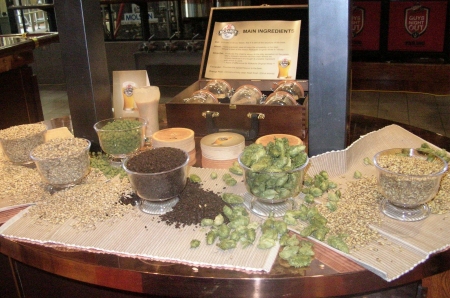 Due to the fact that I write about beer (and occasionally other things) in a number of different places, I get a lot of press releases and invitations and freebees. This is nothing new to me – I spent many, many years as a music writer and DJ, and received an absolutely insane number of free CDs, records, concert tickets and other swag – and as such, I've become both jaded and realistic about PR and marketing and the people who work in that business. Don't get me wrong, I've met a lot of really nice PR people over the years, a couple of whom I've gone on to become fairly good friends with. But I also have to recognize that my relationships with most them are ultimately based on them giving me stuff in hopes that I will write about it, and nothing more.
In addition to recognizing this, I've also developed what I think to be a pretty strong bullshit detector (OK, sometimes it's a bit too strong), as well as a low tolerance for empty buzzwords and marketing doublespeak. Basically, I'm a cynical bastard who dislikes many elements of our consumer-oriented society, and I take most of the PR bumph that I receive with a huge boulder of salt.
So when I received an invitation a month or so ago to a blogger-oriented tasting event of some sort featuring Molson beers, I was typically ambivalent about it. Not just because I dislike most of Molson's products, but also because the event was called "Brew 2.0" and the invite used phrases like "social media space" and "blogosphere" and such. I was prepared to ignore it, but I got hooked by two things: the promise of a debut of a brand new beer (Molson or not, I'll all about trying new beers, since I'm a ratings whore), and the chance to check out the micro-brewery at the Air Canada Centre where they brew Rickard's Red for on-site sales (not a big fan of the beer, but I always like looking at all the shiny tanks and pipes and things).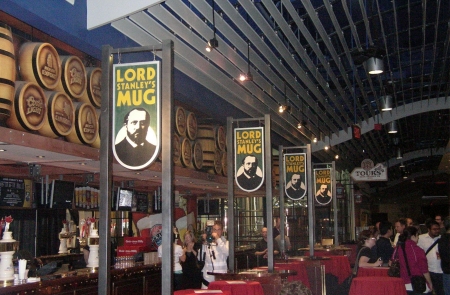 Taking Troy from Great Canadian Pubs & Beer along as my guest (and also my camera source, since I forgot to bring my own(, I headed down to the ACC where I found a group of 20 or so local bloggers and other "social media" movers and shakers gathering at Lord Stanley's Mug, the bar located beside the small brewery. Folks I recognized included Alexa and Gerry from Cheap Eats Toronto, Matthew Blackett (aka m@b) from Spacing, and Joey deVilla (aka Accordion Guy), one of Toronto's earliest and most infamous bloggers. Pints and bottles of an assortment of Molson products were being offered as people arrived and mingled, and I was pleased to note that the vast majority of the people were drinking the quite palatable Creemore Springs and Rickard's White, while very few were bothering with Coors Light or Canadian.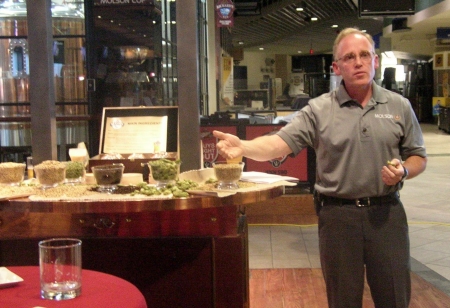 After a few minutes of chatting and drinking, the group was treated to a presentation by the Director of Brewing for MolsonCoors, Ian Douglass, which covered the basics of beer and the brewing process – nothing new to me, but it was well presented and taught something to quite a few of the attendees. This led directly into the tasting portion of the evening, which featured a bunch of Molson (& Molson owned/distributed) beers paired with some nibbles from the ACC kitchens that were very tasty indeed (not surprising, given that their culinary program is headed by chef Brad Long).
The pairings we were treated to included: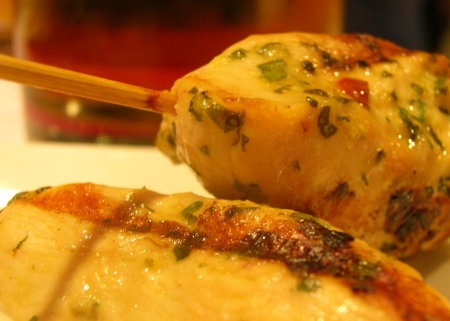 grilled chicken skewer / Molson Canadian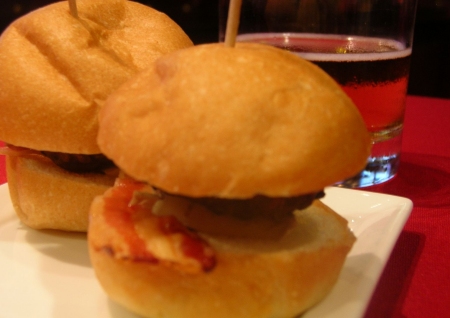 mini burgers with brie & bacon / Coors Light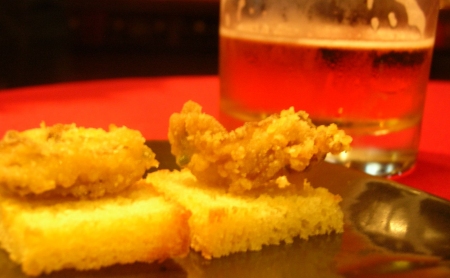 fried oysters / Heineken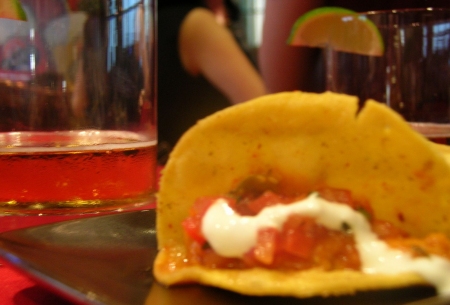 mini veggie tacos / Corona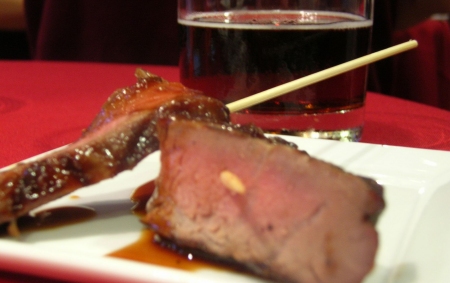 grilled beef with caramelized onion reduction / Rickard's Red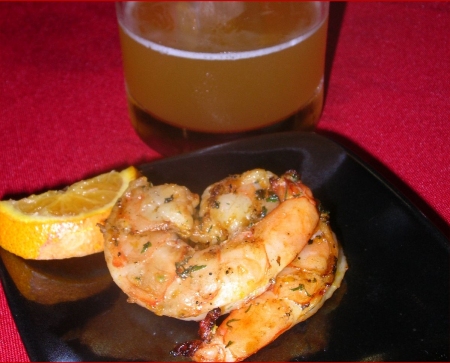 shrimp with citrus glaze / Rickard's White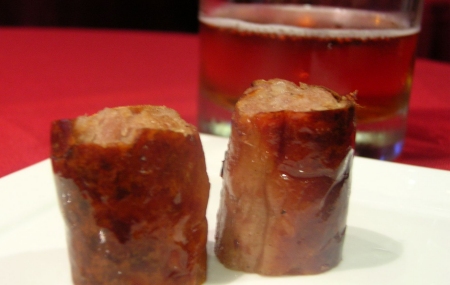 smoked bratwurst / Creemore Springs Lager
The first few pairings were fine in the sense that the beers had so little flavour that there was no chance of them clashing with the food. With the burgers/Coors Light pairing in particular, we might as well have been drinking soda water. The freshness of the Heineken and Corona was impressive, though – especially the Corona, which I don't think I'd ever tried in a non-skunked form before.
The remaining trio of pairings were a bit more interesting, and generally pretty well executed. The Rickard's Red was the freshest I'd ever had it (which makes sense considering it was probably brewed about 50 feet from where we were drinking it), and had a pleasant caramel maltiness that matched the beef and caramelized onion sauce very nicely. The Rickard's White was also in good form, and matching it with citrus and seafood was a smart choice. (An aside for those who might be curious: I asked Douglass about the rumour that Rickard's White is just Coors Blue Moon Belgian White rebranded for Canada, and he confirmed that they're very close, but some slight changes were made for the Rickard's version.) The final pairing was also a winner, with the subtle smokiness of the sausage sitting well alongside the always enjoyable – and like the other beers, remarkably fresh – Creemore Springs.
Once the food was out of the way, our pint glasses were refilled with whatever we chose, and Steve Riley of Draught Prophets gave a presentation on the ins and outs of draught beer, from how kegs are constructed to why it's important for bars to keep their beer glasses and tap lines clean. Again, not really news to me, but it was nice to see such knowledge being spread to folks who might not normally consider the importance of such things.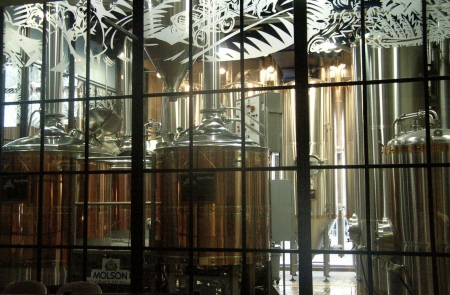 A quick tour of the brewhouse followed the presentation, and then to wrap up the evening, the mysterious new beer was revealed: Kasteel Cru, a French lager brewed with champagne yeast that Molson will be distributing in Canada starting this fall. Two precious bottles were brought up from NYC for us to sample, so there wasn't a lot to go around, but the bit I was able to taste seemed to be OK, albeit a bit unexciting. I'll reserve judgement until I get a chance to sample a full bottle.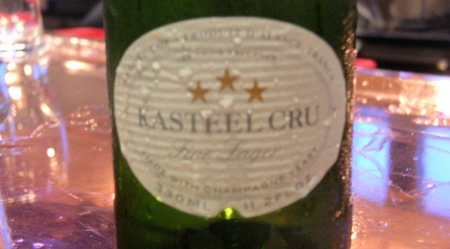 While the macrobrew-bashing part of me hates to say it, I have to give Molson some kudos for this event, at least in terms of how the beers were presented and the way that information was passed on to the generally non-beer-savvy group that attended. As shown by the blog posts that followed from some of the attendees, they opened a few people's eyes and minds to aspects of beer that I just take for granted, like beer and food pairings and the importance of spotless glassware.
That being said, I'm still pretty cynical about the approach that was taken from a PR perspective – the subsequent story from one attendee about how the PR company somehow found out about a BBQ they were holding the following weekend and showed up with free beer is more creepy than cool, IMO. But like I said above, I've got some issues with most aspects of the PR and marketing industry, so I'm bound to feel that way.
Come to think of it, though, perhaps the fact that I wrote this post despite the original invite saying that coverage of the event wasn't a requisite for attending shows that I'm not quite as immune to PR hype and freebees as I'd like to think. Maybe I'm more of a sucker than I realized for free beer and food – not to mention the free taxi chits, USB stick with the press material, and coupon for a free 12 pack of any Molson product from The Beer Store that I was given on the way out.
Damn. I feel so dirty!