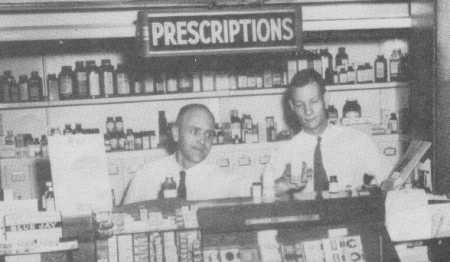 Earlier this year, I got an email out of the blue from an editor at the specialty publications group of Rogers Publishing, asking if I'd be interested in writing an article for a magazine called newpharmacist, a lifestyle magazine for pharmacists. At first I thought that maybe he had me confused with some other Greg Clow who actually has some knowledge about pharmaceuticals beyond being prescribed them once in a while, but it ended up that the mag features a regular drinks column, and they wanted to focus the article for the summer issue on beer. Or more specifically, non-macro beer that's especially suited to warm weather.
(On a slightly ironic side-note: Rogers' co-publisher on the magazine is Apotex, the pharmaceutical company owned by Berry Sherman, who also happens to be the money man behind Steelback Brewery.)
Since the magazine (which came out last month, I think) is only distributed to Canadian pharmacists, and since I suspect very few of my readers fall into that category, I thought I'd post it here. It's aimed primarily at an audience that likely doesn't know much about beer beyond the big names, so it'll probably be a bit basic for most of y'all. But hey, at least it's content, which is something that has been all too rare around here lately…
SUMMER BEERS
There are few things more satisfying on a hot summer day than a cold beer. But in addition to being able to slake your thirst, it's nice if a beer also has some character and an enjoyable flavour that will pair well with some of your favourite warm weather meals. Beyond the standard pale lager, there are dozens of styles of beer to choose from, and here are three that are perfect choices for this time of year:
Pilsner
First brewed in 1842 in the namesake town of Pilsen, Bohemia (now part of the Czech Republic), Pilsner was the world's first golden lager. Traditionally, Pilsners tend to have a rich golden colour, and a pronounced aroma of sweet (but not-too-sweet) malt and slightly spicy hops. The flavour should be moderately full, with the sweet malt and elegant hops balancing each other well, leading to a crisp and refreshing finish.
The classic example of the style is undoubtedly Pilsner Urquell ("Original Pilsner"), which is still brewed in Pilsen using the original recipe. Other notable imports include Czechvar and Staropramen, as well some slightly drier German examples such as Warsteiner, Bitburger and König. Domestically, King Pilsner (Ontario), Half Pints Phil's Pils (Manitoba) and Wild Rose Natural Blonde Organic Pilsner (Alberta) are fine examples. For summer food pairings, Pilsners work well with patio and pub grub such as burgers and pizza, or lighter grilled fare.
Wheat Beers
While there are a number of sub-styles and modern variations, the two classic versions of wheat beer are German Weizen (or Weissbier) and Belgian Witbier (or Bière Blanche). Both are brewed with a percentage of wheat added, giving them a lighter body that's perfect for summer. The Belgian variety generally has coriander and orange peel added to the brew, lending a fresh spicy edge, while the German version has no spices added but usually has notes of clove and banana due to the yeasts that are used. Both styles are traditionally unfiltered, giving them a hazy appearance from the suspended yeast particles.
The best known example of Witbier is Hoegaarden, which was first brewed in 1966 in the Belgian town of the same name. Brussels White is another good imported version, while Canadian-brewed Wits include Unibroue Blanche de Chambly (Quebec) and Mill Street Belgian Wit (Ontario). On the Weizen side, popular imports include Schneider, Hacker-Pschorr and Erdinger, and domestic examples include Tree Hefeweizen (BC) and Denison's Weissbier (Ontario). Both styles pair well with seafood, especially mussels that have been steamed in wheat beer themselves.
India Pale Ale
Despite the name, the India Pale Ale (IPA) style was not created in India. Rather, it was born in England in the 1700s when brewers solved the problem of beer going bad during the long, hot boat ride to India by brewing a version of Pale Ale that had a much higher level of both hops (which are a natural preservative in addition to being a flavouring agent) and alcohol. While refrigeration and other modern technologies mean that it is no longer necessary to brew beer this way for long journeys, there are enough people who enjoy the amped-up flavour of a traditional IPA that brewers in England and around the world are keeping the style alive.
The guidelines for the IPA are a bit amorphous, with alcohol ranging from moderate (5%-6%) to high (10% and up), and hopping levels ranging from pleasantly bitter to aggressively astringent (the latter being a trademark of so-called Double or Imperial IPAs that are becoming increasingly common in North American craft brewing). On the mellower side of the scale, Samuel Smith's India Ale is a classic UK version, while solid domestics include Wild Rose Industrial Park Ale (Alberta) and True North India Pale Ale (Ontario). More aggressive examples include Dieu du Ciel Corne du Diable (Quebec), Garrison Imperial Pale Ale (Nova Scotia) and Phillips Amnesiac (BC). As the name suggests, IPAs pair nicely with spicy foods, as well as grilled and barbecued meat.
And one final thing to remember: Despite the brand name, Alexander Keith's is definitely not a real IPA!