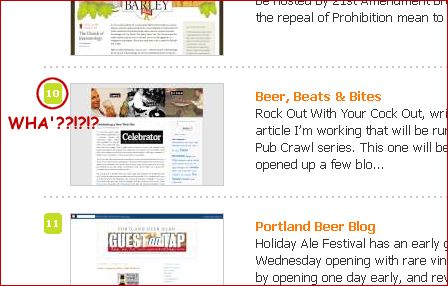 I've got no idea how this happened and who decided I deserved it, but I've somehow made it into the Top 10 beer blogs on the whole, entire Internet (or at least, out of the 104 that are listed) according to Blogged.com.
I'm frankly humbled and confused by this. Humbled, because it puts me into the company of beer writers who are much better and more prolific than I. Confused, because they have me ranked higher than some more worthy bloggers, such as Alan (#13) and Stan (#14) – and hell, Lew doesn't seem to be listed at all!
At least Jay and Stonch came in ahead of me, which is where they belong.