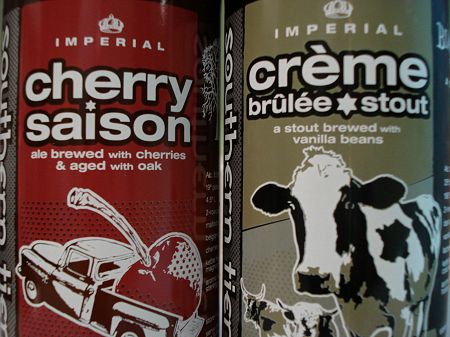 I'm generally not one to play or pick favourites, but if I had to make a list of the best young breweries in North America, Southern Tier would be near the top. These guys from New York State produce so many solid and interesting beers, it's hard to believe that they're less than 5 years old. And it's nice that they're one of the few US breweries to have representation and availability in Ontario, thanks to the fine folks at Roland + Russell.
Vlado from R+R passed me a pair of of brews from ST's specialty Imperial series a while ago, so as I continue to play catch-up on all the things I've been meaning to write about, here's what I thought of 'em:
Southern Tier Cherry Saison
Saison is one of my favourite beer styles, and cherry is one my favourite fruit beer flavours, so I was prepared to love this one. Unfortunately, I was a bit let down by it. It has a slightly hazy golden with a small white head. Odd aroma – a vague hint of cherry of you know to look for it, some oakiness, some musty yeast, hint of spice, and something else that I can't really identify. Medium mouthfeel. Flavour is rather disappointing – again, a very vague hint of cherry, but it's overpowered by notes of wood and caramel, a hint of cream, and a mild spiciness. Quite a strange beer – I didn't hate it, but I didn't love it either.
Southern Tier Crème Brûlée Stout
Ahhh, now this is more like it! Deep brown colour with a small mocha head. Absolutely rockin' aroma of vanilla and caramel with hints of cream, maple, brandy and cocoa. Flavour follows the aroma note for note. Body is full and slightly sticky. I can see why some people wouldn't dig this – the sweetness is verging on being cloying – but alongside a few rich chocolate truffles, this is a fantastic dessert brew. Yum!