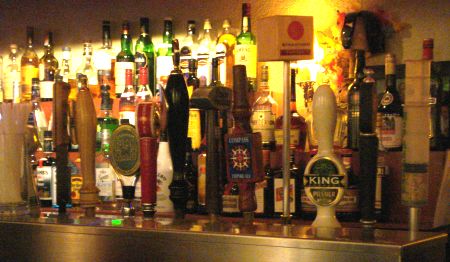 I spent a couple of hours on Thursday evening at The Victory Cafe, a pub that I don't get to as often as I should. They've got one of the best tap line-ups in the city, a couple of cask engines, good pub grub and reasonable prices, making it a nice local for those who live closer to it than I do. Those such as Nick Pashley, for instance, who I happened to run into when I arrived.
I was mainly there to chat with the owners for an article going up on Taste T.O. this coming week, but I also wanted to check out the launch of Compass Empire Ale, their new house beer bring brewed at Nickel Brook based on a recipe by Victory co-owner Blake Smith and his father, a veteran homebrewer. All who tried it, including Blake, found that had some promise, with a nice hop notes, but the body and maltiness left something to be desired. Ends up that they hadn't filtered the pilot versions, and the filtration of the commercial batch took more out of the beer than they expected. I'm sure some recipe tweaking will take care of that, and they should end up with the excellent British Pale Ale that they intended, to be followed by a couple of other Compass brews.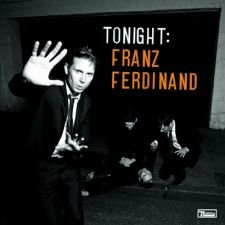 My other reason for being there was to grab dinner and beers with a couple of friends before heading over to Lee's Palace to see Franz Ferdinand. Lee's was a regular haunt for me back in my younger days when I spent a lot of time in dark rooms having my eardrums blasted by loud music of various sorts. As I rarely do such things any more, it had been a year or two since I'd been there, but the novelty of seeing a band that I really like in a venue much smaller than those they usually play at was enough to draw me out.
(That, and the fact that it was an early show, so my old, tired ass would be out of there and home by 11:30 or so…)
I'm glad I went, as it was a solid gig, very energetic and lots of fun. It was their second in a short tour of small-venue shows in advance of their new upcoming album, Tonight, and it took them a couple of songs to really get into gear. But after a so-so new track and a kinda limp version of "Do You Want To", they got into a groove and kept it going right up to the ripping version of "This Fire" that closed the encore. Aside from the opening number, all of the new songs were great, and got the audience just as revved up as the older hits. And since my days of music reviewing are long behind me, I'm drawing a blank on anything else I could write about the show – try reading this for a more detailed review.
Getting back to beer, though – I was impressed to see that the selection at Lee's has improved greatly since I was last there. They've still got the usual mainstream suds, but they've added three from Mill Street, a couple from Wellington, Steam Whistle, and perhaps one or two other crafty things. Nowhere near as beer-geeky as the Victory, but for a dingy rock bar (and I mean that in the best way possible), not bad at all.