The Abbot on the Hill, a Toronto gastropub specialising in imported beers, marked the launch of Fuller's Chiswick Bitter in Canada with a special beer dinner this past Monday. They have a beer and food pairing prix fixe dinner each Monday, and this week featured five Fuller's beers matched with each of the five food courses. My wife and I went to check it out, and shared a table with fellow beer blogger Troy Burtch and esteemed brewmaster and beer & food pairing expert Bill White.
Here's how it turned out (and apologies in advance for the mediocre photos – the room was quite dark, and the few flash photos we took look even worse):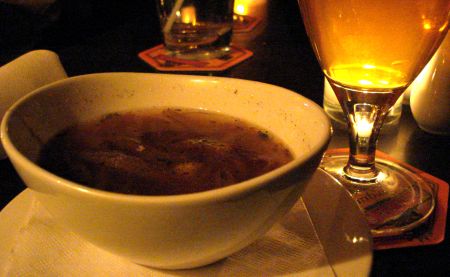 Stilton Ale Soup
beer pairing: Organic Honey Dew
This course was sadly a disappointment. "Stilton Ale Soup" suggests something flavourful and hearty to me, but instead we got an under-seasoned and lukewarm onion soup with a couple of small pieces of Stilton floating in it. Considering the light body and subtle flavour of Honey Dew, though, that might've been a good thing, as I don't think the beer could've held up to anything too rich or heavy. Having eaten at the Abbot a number of times before, I knew they could do much better than this…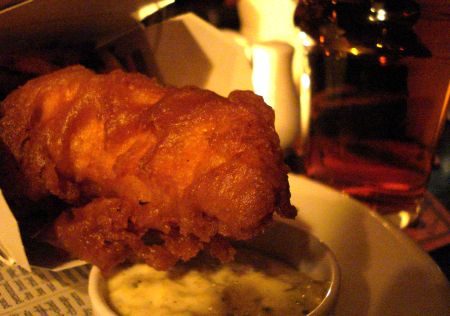 Ginger Beer Battered Salmon
Shoestring Fries
beer pairing: Chiswick Bitter
…and I was right, as this next course was excellent. My wife had a bit of trepidation about the fact that they chose to deep-fry a perfectly good piece of organic Irish salmon, but once we tasted it, there were no complaints. The shoestring fries were nice as well, and the presentation in a small take-out style container was very cute. And it probably goes without saying that pairing the traditional session ale with the slightly gussied-up take on the traditional fish & chips was a good choice.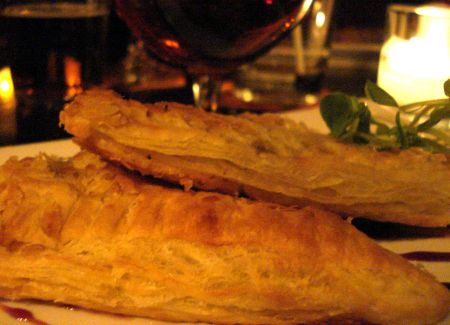 Mini Vegetable Wellington
beer pairing: ESB
I don't know if there was a last minute change in plans, or if they were being creative with the description, but what was called a "Mini Vegetable Wellington" on the printed menu was actually the mushroom pastries that my wife had previously ordered off of the Abbot's regular menu. No complaints here, though, as they're damn tasty. The ESB was a suitable pairing – not revelatory, but solid.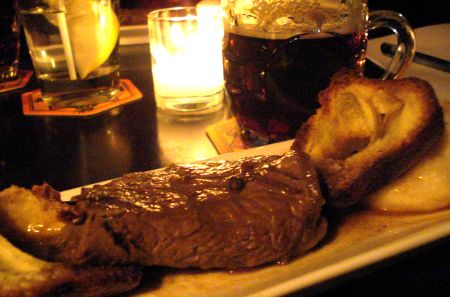 Roast Prime Rib
Peppercorn Jus
Champ
beer pairing: 1845
As someone who prefers his red meat to be served very rare, I couldn't help but be a bit disappointed but the fairly well done piece of beef that I was served. At least it wasn't dried out and leathery – it was quite juicy, in fact, and while the Yorkshire pudding was a bit overdone and dry, the champ was absolutely lovely. I think the beer went well with it, although to be honest, by this point the pre-dinner pint and all of the paired beers were starting to get the better of me, and the conversation was getting more animated, so I was paying less attention to the subtleties of the pairings.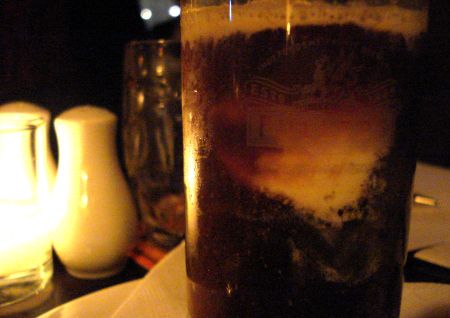 Porter Vanilla Float
beer pairing: London Porter
Yeah, it looked like a total mess – especially in the photos – but this float made with London Porter and vanilla ice cream was seriously good. Like, off-the-hook good. Especially after I smushed up the ice cream and mixed it up and drank it like a boozy milkshake. Mmmm!
Torontonians looking to get a taste of the Chiswick can head up to the Abbot, where it's still on tap, and it should be rolling out to other pubs and restaurants over the coming weeks. Thanks to Premier Brands for bringing in another beer from the Fuller's portfolio, they're always a treat to try.