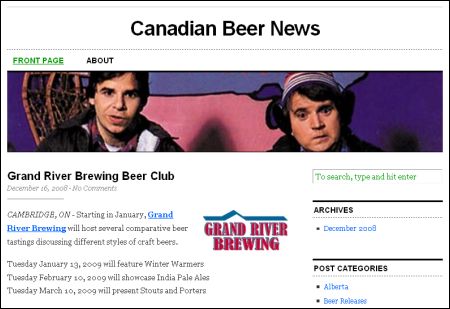 I was planning on waiting until after the holidays to officially announce this, but it came together a lot more quickly and with a lot less effort than I expected, so I figured I'd give you all an early Christmas gift:
I'm pleased to announce the launch of Canadian Beer News, a new blog from yours truly that will focus exclusively on news from the Canadian brewing industry. There will be no beer reviews or opinion pieces, simply press releases and news bulletins with announcements of new beer releases, brewery openings and closures, news about festivals and events, and other information from breweries all across the country.
Giving credit where credit is due, I must admit that the idea was ripped off of – uh, I mean, "strongly influenced by" – beernews.org, the excellent and informative blog/website that provides similar information on the American craft brewing scene. Since there was nothing similar here in Canada (or at least no blog dedicated exclusively to new beer announcements and other news), and I was already getting a lot of press releases and announcements sent to me from various breweries, I figured I might as well set up a place to cut & paste the info for all to see.
Please pop over for a look, and let me know what you think. And if you're a brewer in Canada, please add me to your mailing list so I can spread the word on what you've got going on.