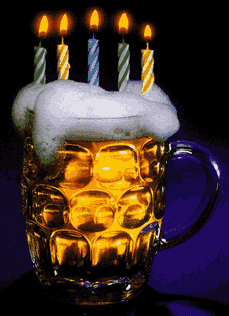 It's my birthday today. The Big Four-Oh. I guess I'm supposed to be starting my mid-life crisis now – or does that start at 50 nowadays?
Like most big events in the Clow-Kirby household, it's being celebrated fairly quietly. Friday night, we got together with Joann and Rodger, a lovely older couple who we've gotten to know over the last couple of years at Harvest Wednesdays, a series of dinners and tastings at the Gladstone Hotel where they and we are regulars. They both work at the Royal Ontario Museum, so they gave us a quick tour of a couple of current exhibits featuring diamonds and gemstones (oooh, sparkly!), and then we went for dinner at Dynasty, a nearby Chinese restaurant. The food was good, albeit about twice as expensive as a similar meal would be over on Spadina, but that's Yorkville for ya.
Last night, it was dinner at beerbistro which is always a treat, birthday or not. We started with duck confit corn dogs and blonde ale veggie pakoras, followed by an astoundingly huge serving of rabbit & bacon fettucine for Sheryl, and the succulent applewood-smoked suckling pig special for the birthday boy, washed down with the always enjoyable Durham Hop Addict IPA. Manager Dayna somehow found out that it was my birthday (oh, alright, I bragged about it on the way in…) and sent over a bomber of Lagunitas Imperial Stout for us to enjoy with our dessert of flourless chocolate cake – but wait, before the cake arrived, chef Brian stopped by to see if we'd like to try something he'd been "playing around with": foie gras cured in Rochefort 6 served with a banana-cherry chutney. Well, twist our rubber arms, and ohmifrickingod, best foie gras EVAR!!!
Today, it was brunch at The Beaver, one of our favourite little brunch spots in the 'hood, and tonight, dinner and drinks with my usual beer drinkin' posse at The Rhino, the best beer bar within staggering distance of our apartment.
Yeah, I guess 40 is turning out to be pretty OK so far…