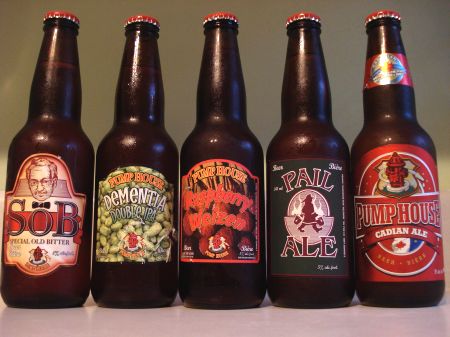 One thing that I'm going to try and do more of in '09 and beyond is posting beer review features here on the ol' blog. As a beer rating whore, I'm taking & typing up notes for all of the new beers I try, anyway (although I've currently got about half a notebook full that need to get entered). So while I won't be posting here about every single beer I tip back, I'll be aiming to do themed posts when I get a number of beers in the same style, or from the same brewery, etc.
Which brings us to this li'l round-up of five beers from  Pump House Brewery. My exposure to the beers from this New Brunswick brewery has been fairly limited, since only their Blueberry Ale has ever been available in Ontario, and even that was quite limited. But when the lovely and talented brewmaster Greg Nash headed there after being turfed from Garrison Brewing in Halifax, I made a point of trying to get my hands on more of their brews, and soon lucked into the five pictured above.
I actually received and drank all of these beers a few months ago, but I just came across the photo that I took of them back then, obviously with the intention of doing a post like this one. And thanks to the magic of RateBeer, I can cobble one together now:
Pump House Special Old Bitter (S.O.B.)
Caramel-amber colour with a small off-white head. Aroma and flavour are both quite hop-forward, with strong grapefruit notes, and a sweet malt backing – simple, but very good. Medium bodied, and quite sessionable.
Pump House Dementia Double IPA
Hazy dark golden with a small, lacy white head. Aroma – sweet sassy molassy, that's HOPPY! Seriously, this is one of the hoppiest smelling beers I've ever come across. Big notes of citrus, pine, spruce, pot – crazy! Flavour is SLIGHTLY more subdued, but still pretty powerful. There is a sticky character to the body, but it's also surprisingly crisp, especially in the finish, making it remarkably refreshing.
Pump House Raspberry Weizen
Dark pink-amber with a minimal light pink head. Aroma and flavour are all about the raspberry – big and fresh, and really, really tart. Completely one-dimensional, but if you like raspberries (which I do), that one dimension is a really good one.
Pump House Pail Ale
Golden amber with a large white head. Aroma starts malty, with notes of chocolate and caramel, with citric and slightly woody hops coming up behind. Medium bodied with light carbonation. Flavour is great – mild caramel, candied orange peel, lingering hop bitterness. Solid!
Pump House Cadian Cream Ale
Light gold colour. Sweet & grassy malt aroma. Light body. More sweetness in the flavour, with a bit of honey & orange. Not much bitterness in the finish. The most mainstream – and most disappointing – of the bunch.