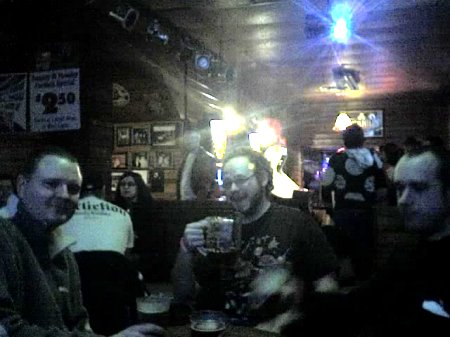 Being a (relatively) mature 40 year old, I'm well past my years of regularly drinking to the point of extreme inebriation, and subsequently bragging about it to my friends. (Or anyone who will listen, for that matter.)
But man, did I get fucking hammered on Saturday night!
The occasion: a road trip to Buffalo to attend the Rare Beer Festival at Cole's. It was a trip that was almost scuttled, as one of our foursome had issues with his paperwork (he's an Irish citizen in Canada on a work visa) and was refused entry into the US. It briefly looked like we'd be heading back to Toronto for an evening of drinking not-so-Rare Beer, but luckily (for the other three of us in the car, at least), several friends were down at the Festival for the afternoon and just happened to be heading back around the time that we were stuck at the border. So Jeff, Paul and I we were able to dump the troublemaker (sorry, Al!) and make it down to Cole's after all.
Here's what awaited us…
TAPS:
Troegs Nugget Nectar
Victory Yakima Twilight
Dogfish Head 120 Minute IPA
Dogfish Head Fort
Dogfish Head World Wide Stout
Oskar Blues Whiskey Barrel Aged Gordon
Oskar Blues Bourbon Barrel Aged Old Chub
Oskar Blues Whiskey Barrel Aged Ten Fidy
Ommegang Obamagang (Inauguration Ale)
Samuel Adams Chocolate Bock
BOTTLES:
Lost Abbey Gift of the Magi
Lost Abbey Inferno Ale
Jolly Pumpkin Weizen Bam
Dogfish Head Zwaanendale
Brooklyn Brewing Black Ops
Sonoran 100
Flying Bison Blizzard Bock
Malheur Brut Reserve
And that was just the "official" list. More goodies came up from the cellar throughout the evening, including:
Samuel Adams Utopias
Harviestoun Ola Dubh 12 Year
Harviestoun Ola Dubh 16 Year
Harviestoun Ola Dubh 30 Year
New Glarus Belgian Red
New Glarus Raspberry Tart
Troegs Scratch #16
Captain Lawrence Captains Reserve
I'm not sure how, but I managed to put back samples of something like 75% or 80% of the beers on the list – basically, almost every one I hadn't tried before. Even more amazingly, I took coherent tasting notes for almost all of them.
After that, the three of us – along with our Buffalo buddy, Rudy – decided it would be a good idea to go next door to Mr. Goodbar and split several pitchers of Dale's Pale Ale. That's where the grainy cellphone photo above was taken. A photo that I have absolutely no recollection of taking, by the way.
(And y'know, come to think of it, I believe that last time I got so smashed might've been on my previous trip to Buffalo. Something about that city…)
Anyhoo – thanks to Mike at Cole's for throwing a fantastic event, and Rudy and Ang for housing our soused asses for the evening. It was a bit of a rough drive back in the morning, but the hangover was a well-earned. Although I hope not to inspire another similar one any time soon.