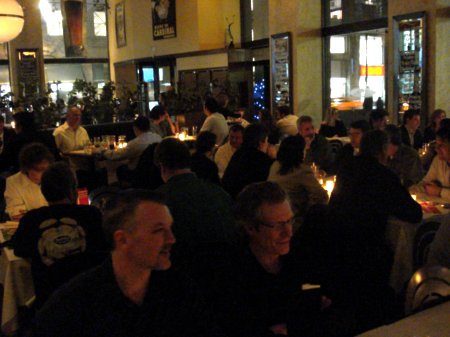 Having now been to several gourmet beer dinners at beerbistro, I know that I should expect to be blown away by them. Chef Brian Morin and his team are true artists when it comes to preparing food and pairing it with beer, and they always team up with some of the world's best breweries for these multi-course extravaganzas.
Still, I find myself amazed, delighted, and often surprised at every single one of them, and their Danish Beer Dinner this past Thursday night was no exception. With the support of import agents Roland + Russell, the dinner put the spotlight on the beers of Danish breweries Nørrebro Bryghus and Mikkeller, and Nørrebro brewmaster Anders Kissmeyer flew over from Copenhagen to introduce his beers, while beer writer and beerbistro partner Stephen Beaumont did the honours for the Mikkeller beers.
Read on for a full run-down of what was served, along with some dark photos and a few scattered thoughts on the beer, food and pairings.
According to Beaumont, when horse tartare was served at a dinner in beerbistro's early days, several people walked out. Their loss, as this dish was absolutely delicious. The horse meat had a flavour that I'd almost describe as sweet, and the nest of thinly cut and fried potato it was served on reminded me pleasantly of Hickory Sticks. The soup was smashing as well, very rich and creamy.
As for the beer, it was a solid and well-hopped IPA, just as expected. Someone at my table thought it was rather one-dimensional, but isn't that sort of the point of these single-hop IPAs?
Chef Morin knows his way around a smoker, and it showed in this dish. Some found the smokiness too strong, but I'm a sucker for pretty much any sort of smoked food, so I was very happy with it. The bed of potato salad with horseradish crème fraîche complimented the fish very well, and the knifework on the brunoised beets was quite impressive.
I was skeptical about the beer pairing at first, but it actually worked quite nicely. Sort of in the same way that stout pairs well with oysters, the roastiness of the porter was a good foil for the smokiness and saltiness of the cod.
This dish brought out Brian's sense of humour, as not only did he pair an Easter beer with a rabbit dish, but he plated the terrine with some greens pointing up behind it like a set of bunny ears.
All joking aside, though, it was a fantastic dish – maybe my favourite of the night – and the solid and elegant doppelbock paired with it very well.
As soon as I was served this plate, I was reminded of the Duck In A Can from Montreal's Au Pied de Conchon that I had at the "underground restaurant" Charlie's Burgers a few weeks ago. I mentioned this to Brian after the dinner, and he was flattered. He might be even more flattered to know that I slightly preferred his version, although that was mainly because it was a more manageable serving size than the overwhelming mountain of meat that came out of the can at Charlie's.
As for the pairing, I personally thought this one stumbled a bit. Jackie Brown is quite a bit hoppier than your average brown ale, and I found that it clashed a bit with the rich meat at first. A bit further on they started to mesh a bit better, but to my palate at least, they never quite found a good groove together.
This dish was meant to be a sort of palate cleanser between the two biggest dishes of the night, and it served that purpose well. The Matane shrimp had a fresh and clean flavour that was a nice contrast to the more robust flavours of the duck and beef.
As for the beer, it was the hit of the night for many people, including myself. Brewed by Kissmeyer in collaboration with Sam Calagione of Dogfish Head, Old Odense is meant to replicate the ancient brews of Denmark that were brewed with various herbs and spices before hops came along. It had a bit of a gueuze-ish thing going on, but there were also flavours in there that I've never tasted in a beer before – or anywhere else, for that matter. Very unique stuff that I'd love to try on its own sometime.
By the time course (and beer) number six rolled around, I was starting to feel a bit… well, y'know… and I forgot to take a picture of the oh-so-tasty beef and creamy scalloped potatoes before digging in. Hence, the photo above of a sloppy half-eaten dish.
Off to the side, you'll see a glass of La Granja Stout, which had a well-rounded roastiness and a hint of sweetness that played off the beef quite nicely.
A typically Danish choice for the cheese course, although it was a Benedictine Blue from Quebec as there are few very good quality Danish blues available in Canada. (Sorry, Rosenborg fans, but it just doesn't rate…) Served with a wedge of walnut bread and a sour cherry compote, it was a lovely penultimate course.
Astute readers will note that the name of the beer paired here has three breweries listed. Crafted at San Diego's Stone Brewery by Mikkel Borg Bjergsø of Mikkeller, Greg Koch of Stone, and Peter Zien of Alesmith, the beer is a Belgian-style tripel with a US West Coast twist, with lots of citrusy hops along with the spicy and fruity notes expected from the style. It was a good pairing, but not an OMG!!! one.
That brown Sputnik looking thing there is a poached pear spiked with almond slices and dipped in chocolate ganache. On the side, a thin cookie and a small scoop of ice cream made with the paired beer. Yes, it tasted as good as it sounds. Yes, I ate most of it despite having next to no room left after the feast that came before.
The beer was perhaps my most anticipated of the night: the "Weasel" version of Mikkeller Beer Geek Brunch, brewed using the famous and expensive civet coffee. It was a beautiful stout, big and roasty and hoppy – another one that I hope to try a stand-alone bottle of at some point.
Finally, it wouldn't be a beerbistro dinner without a surprise nightcap beer, and this one was quite a doozy: Mikkel's Monster, a 13% barley wine brewed as a collaboration between the Nørrebro and Mikkeller brewmasters. A unique blend of beer that had been aged in port and Bordeaux casks along with an unoaked portion, this was simply a beautiful beverage, with a complex flavour of citrus, maple, caramel and spice, and the boozy warmth you'd expect from a 13% brew. This marked the first (and perhaps only) time the Monster had been unleashed outside of Denmark, so it was a real privilege to have a chance to sample it.
And so, four hours, eight courses, and nine beers later, I rolled my tipsy and over-stuffed self out of beerbistro and headed home, giving thanks for the fact that I'd thought ahead and booked the next couple of days off work. Believe me, I needed it. But even despite the hangover and heartburn, there were no regrets, and if any of the potential dinners that Brian mentioned to me come to fruition, I'll be making my reservations as soon as it's possible to do so.