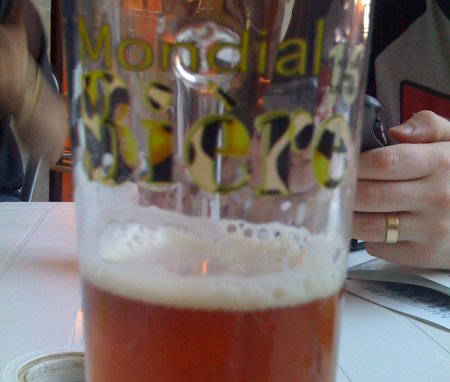 As my 5 or 6 regular readers will know, I'm not exactly known for brevity or timeliness when it comes to posts on this blog. A perfect example of this is my report on my trip to NYC a couple of years ago, a bloated series of six meandering posts, the last of which wasn't posted until a month after I got home. So for this report on my trip to Montreal for Mondial de la Bière, I promised myself that I'd be both punctual and somewhat brief.
Well, it's a bit over a week since I got home, so I'm not doing so great on the "punctual" part. So let's see how I can do on the "somewhat brief" part…
This year was actually my second Mondial experience, although the first one that was planned. My previous visit took place way back in 2000 when I was in Montreal for the first edition of the MUTEK electronic music festival and stumbled across that year's Mondial when looking for something to do one afternoon. The festival was in a different location back then, and much smaller as well, but it was still a landmark moment in my craft beer education as I discovered a good number of beers that I'd never heard of before.
I'd been hoping to make it back for another Mondial ever since, but this was the first year that I was able to make it work. Plans were made with some of my local beer pals months ago, and bright and early on Wednesday morning, five of us met up at Union Station to catch the train to Montreal. After arriving mid-afternoon and checking in at our sort-of-but-not-quite-a-hotel, Les Appartements Touristiques du Centre-Ville, we hit the festival for our first session.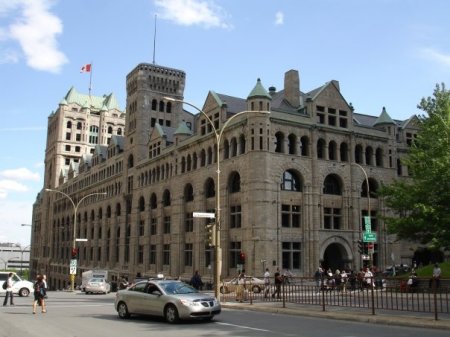 From the moment we got there, it was obvious that we were in for an enjoyable few days. The venue, Windsor Station (pictured above in a photo by my friend Alan), is a near-perfect place to hold this sort of event, with a large and airy inside concourse that opens to an equally spacious courtyard. And after dealing with the overbearing security and ridiculous regulations at the swill-soaked frat party that Toronto's Festival of Beer has become, it was a joy to attend a large-scale beer event that was so laid back. There were no bag or body searches at the door (seriously, folks – they do this at the Toronto festival!); outside food and drink wasn't confiscated (they do this as well!); and the free admission meant that people could come and go as they pleased and buy as many or as few tasting tickets as they wanted, which in turn made it less likely for attendees to over-indulge. Sure, there some folks who went a bit past their limit, and the sound of a glass being drunkenly dropped echoed through the hall occasionally. But in general, it was remarkably civilized experience.
As you'd expect, a good percentage of the booths were occupied by Quebec breweries and brewpubs, from the large ones like Unibroue, McAuslan and RJ, to some that even we hardcore beer geeks knew little or nothing about. A few importers were also on hand with the beers they represent in Quebec, and two large booths called Le Petit Pub featured a wide assortment of beers from around the world, including some great US product, unique offerings from Italy, Japan and Scandinavia, and thanks to the efforts of Mirella Amato and the Ontario Craft Brewers, a nice selection of brews from Ontario.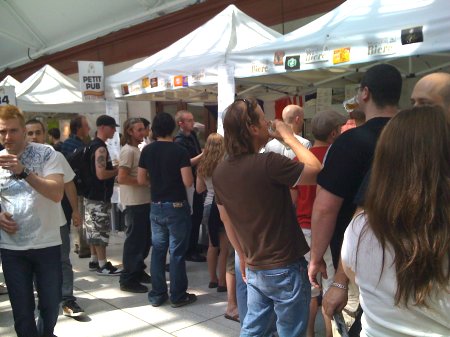 We spent a few hours at the festival each day Wednesday to Friday, and a good number of beers were sampled, with very few of them disappointing us, and a number of them being quite outstanding. Like Stephen Beaumont, I was really impressed by the cask version of Hopfenstark's Post-Colonial IPA (but then again, I am a bit of a Hopfenstark fanboy). I also quite enjoyed the special festival beer from Brasseurs de Montreal, the very refreshing Blanche au Thé Rouge Rooibos, as well as their equally refreshing Chi Orientale, another Blanche with a sharp hit of ginger.
And as it's now becoming obvious that my attempts to keep this report to a reasonable length are failing miserably, I'm going to cut things off here for now, and save the rest for Part Two. Oh, the anticipation…!