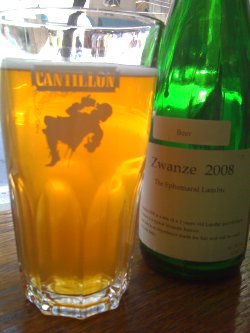 Earlier this evening, I visited beerbistro, and I purchased and drank the beer in the photograph that accompanies this post. It was Cantillon Zwanze 2008, a limited edition lambic from the renowned Belgian brewery that was made with rhubarb.
Like every other Cantillon beer I've had, it was excellent, full of tart and funky goodness, with an interesting hint of rhubarb in the finish. A perfect beer to enjoy on a warm early summer evening.
Oh, and it cost me $25 (+ tax and tip) for a 375 ml bottle, which I believe is the most I've ever spent on a single serving of beer.
I'm sure there are a lot of people – including many craft beer drinkers – who will think me crazy for dropping so much on a single beer. Hell, for the money I spent on the Zwanze, I could've had three pints of something or other at beerbistro, or even more at someplace a little more down market.
So, why did I buy it? Well, a friend mentioned on a private chat forum today that he'd tried it, and since I love Cantillon beers and really like rhubarb, I decided to treat myself and splurge a little. (The fact that I came into a bit of extra money this week kinda helped me make my decision as well…)
And, was it worth it? Tonight, yes, it was. I thoroughly enjoyed the 45 minutes or so I spent drinking the beer, and given it's scarcity, I felt the price was justified. Beerbistro is probably the only place in Canada, and perhaps in all of North America, to have Zwanze in stock. When I think what a wine of similar quality and rarity would cost in a restaurant, $25 almost seems like a bargain.
I'm curious to know what other people think, though. Is $25 (or more) ever a justifiable price for a bottle of beer, no matter how rare it might be? Does the "just imagine what a comparable wine would cost!" argument hold any weight, or is it a just a way for suckers to justify things to themselves when they drop too much money on a beer? And like the subject line above says, how much is too much when to comes to the price of beer?
Any thoughts?
(PS: While I was sorely tempted, I didn't steal the glass. While I'm not a regular at beerbistro, I'm there often enough and know enough of the staff that it would've made my next visit a bit awkward. Plus, stealing is bad, 'mkay? But man, that's a cool glass, isn't it?)