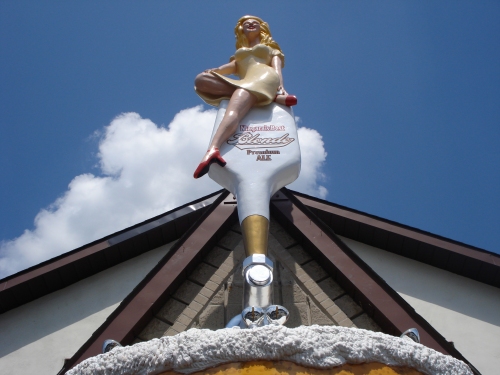 As I've mentioned previously, the wife and I don't get out of the city very often, so we were glad to have the chance to take a quick day trip down to Niagara Falls earlier this month with a couple of friends (and fellow beer geeks) to check out the recently opened Niagara's Best Brewery & Pub.
Folks familiar with the very mainstream and somewhat unexciting Blonde Ale and Logger Lager brewed by Niagara's Best at their previous brewery-only location in St. Catharines might wonder why we would drive for a couple of hours to visit the new place, and if that's all they had on offer, we surely wouldn't have bothered. But brewer Ian Watson has taken full advantage of the increased flexibility offered by a brewpub operation and has developed a line-up of nine regular brews plus a rotating "Brewer's Special" tap, so there was much more incentive to make the journey.
The brewery is located in the facility that formerly held the Niagara Falls Brewing Company (before they were bought by Moosehead and moved to the former Cool Brewing factory in Brampton), while the pub and retail shop are in a house out front. The larger-than-life version of their Blonde Ale pin-up girl tap handle above the door makes the place hard to miss, and business has been brisk since they opened, with Ian being run off his feet to keep the beer flowing. While the Blonde and Logger are brewed on a large system to produce enough to be bottled and kegged and sent out for retail and licensee sales, the rest of the beers are brewed on what is essentially a souped-up homebrew system, which means that shortages have been common.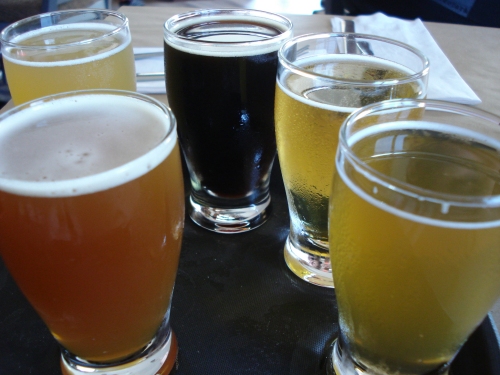 Due to said shortages, we were unable to try the Red, Dark and Pale Ales when we were there, but I had a sampler of the rest of the line-up, and found them all to be pretty solid. Ian admits that most of the main line-up was created with a pretty conservative customer base in mind, so there's not a ton of experimentation going on, but he's doing full malt brewing and has found a good flavour balance in all of his recipes. I was especially pleased by the Light Lager, which had a very fresh character with a decently hopped finish, and Sheryl and I both liked the General Brock Oatmeal Stout enough to grab a growler to take home.
(And by the way, it's fitting that they've named their stout after Major-General Sir Isaac Brock, as not only was he an important figure in the military history of the area, but his name was previously used by Niagara Falls Brewing for their Brock's Extra Stout, one of the very fine beers they made in the same building back in the pre-Moosehead days, where they were actually one of Ontario's strongest craft breweries.)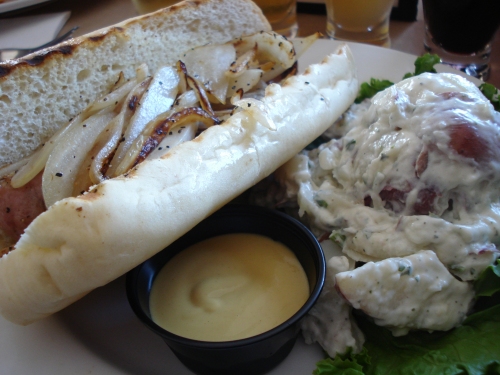 As for the food – well, it wasn't gourmet gastropub fare by any means, but it was fine enough pub grub. My sausage-on-a-bun with potato salad was tasty, with some pretty kick-ass mustard on the side, and our friend Karen had a club sandwich so big that she took half of it home. The only real complaint we had was that one piece of fish in Sheryl's fish & chips was undercooked, although we reckoned that the oil might not have been hot enough since we arrived literally as they opened for the day and put in the first lunch orders. But otherwise, we happily filled our bellies with what we were served.
Ian was pretty busy in the brewery while we were there, but he came out to chat with us for a bit and see what we thought of the beers. He was pretty proud of the fact that he's managed to tweak and improve a few of the recipes, and I get the impression that he's going to continue doing so. And while he's only got one tap line to use for his "Brewers Specials", the IPA that he had on while we were there was pretty damn good, and I saw on his Twitter feed tonight that he's working on a London Porter. So despite the mainstream leanings of many of the brews, I think Niagara's Best will be able to keep the area's beer geeks happy as well.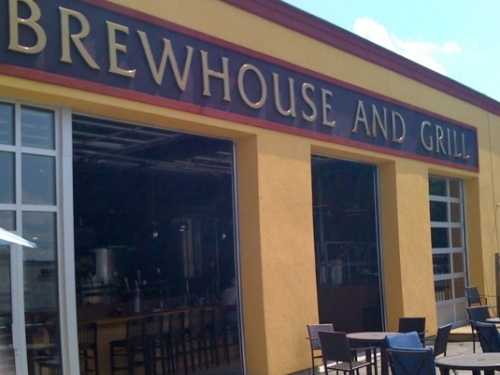 And that's good, because the other new beer spot in town, Taps Brewhouse & Grill, doesn't seem to be going after the geek contingent (or not yet, at least). Like Niagara's Best, they used to be a brewery-only operation in a different town (Virgil, near Niagara-on-the-Lake), but they are now also in Niagara Falls and running as a brewpub. We didn't have time to stop for a proper visit, but still wanted to check it out, so we just popped by to have a look. It's a big space converted warehouse feel, and four beers on tap – Charleston Lager, Premium Lager, Red Cream Ale and Vanilla Wheat – none of which are new or exclusive. Hopefully, once they've been running for a while, they'll break out some new stuff.
We spent the remainder of our trip doing some sightseeing and shopping in Niagara-on-the-Lake (which I dubbed "The Quaintest Fuckin' Town in Ontario", 'cause it totally is!), and paying a visit to Sunnybrook Winery, Ontario's only winery dedicated exclusively to fruit wines and cider. And then it was back home to quickly feed and walk the dogs before heading up to Black Creek Pioneer Village for a tour and tasting at Black Creek Historic Brewery, which was really damn cool, and which I wrote about for Taste T.O.. All in all, a very busy & beery day.