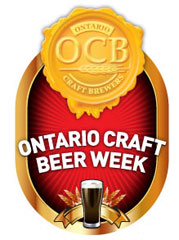 My weekly beer column for Taste T.O. this week is a preview article for Ontario Craft Beer Week, which is taking place and breweries, bars and restaurants all over the province on June 20th to 26th.
The article features a few quotes from Steve Beauchesne (co-organizer of the Week, and co-owner of Beau's All-Natural Brewing) and Jed Corbeil (co-organizer of Session: A Craft Beer Festival, the biggest event of the Week, and co-owner of The Griffin Gastropub in Bracebridge) taken from short Q&A interviews I did with each of them via email. And since I didn't use the full interviews for the article, I thought I'd share them here…
Steve Beauchesne
What inspired the Ontario Craft Brewers to do an OCB Week? Has it been in the works for a while?
It's funny, we've talked about it for a while, but made the decision to tackle it this year very suddenly. Craft beer weeks have been popping up in Vancouver, San Fransisco, New York and more and they seemed like a great way to build awareness with customers and build on the collaborative nature of craft breweries.
While a lot of the OCB Week events are in Toronto and other urban areas, there are a fair share of the events happening in smaller towns as well. Was this a conscious decision on the part of the organizing team?
It was definitely a key decision to include as many towns in Ontario as possible. It represents what we are all about: local breweries supporting their local communities. Toronto certainly has a good list of events, but the idea we had was to make Ontario Craft Beer Week hit as much of Ontario as possible, and I think we've achieved that goal.
A lot of craft beer events tend to "preach to the converted" and attract the usual group of beer nerds. What's being done with OCB Week to spread > the word to folks who might not otherwise be aware of their local craft breweries, or craft beer in general?
Great question! We have two objectives for the week; the first is to say 'thanks' to our supporters in a meaningful way and the second is to continue to grow our fanbase. Both objectives are best met by offereing lots of events with lots of different themes right across Ontario. From the 2,000 person 'Session' festival in Sunnyside Park, Toronto, to the comedy festival in the Muskoka's featuring craft beer, we're creating events that showcase craft beer as the star of the show and other events where it makes a fun companion. We also hope that the sheer number of events will help break through to folks to showcase how present we are and how many restaurants and pubs offer a craft beer offering.
Any other comments or things you'd like people to know about OCB Week?
They should know that by supporting craft beer week they are supporting the communities they live in. Every glass of Ontario Craft Beer contributes so much more in terms of local employment, local taxes, local investment and local philanthropy than imports or mega-global beers do.
Jed Corbeil
What inspired you to get in involved with OCB Week?
Myself and my partner Curt Dunlop have spent the last two years supporting craft beer in Ontario at our pub, The Griffin Gastropub, in hopes that people will eat and drink locally. We love the idea of a week supporting craft beer and we wanted to put our best foot forward with an end of week "wrap up" party that involved as many local craft brewers as possible.
Why are you doing an event in Toronto rather than up at/near The Griffin?
When Ontario Craft Beer Week was announced we thought it was the perfect opportunity to launch a GTA Craft Beer Festival. It is a goal of ours to create numerous festivals that span the seasons, as well as geographical regions within Ontario. Last year, we established our summer festival, the Muskoka Beer Festival, which we will host again this August 28th in Bracebridge. We decided that moving it ahead to coincide with Ontario Craft Beer Week would conflict with other Muskoka festivals (non-beer) that are already planned. There will be events at the pub during Ontario Craft Beer Week that showcase the great local brewers we deal with.
You've invited a couple of non-Ontario breweries to the festival as well – what led to that decision?
We want our festival be be a smaller scale, and to specifically target craft beer drinkers and people who put eating and drinking locally fairly high on their priorities. It is a great event to not only showcase the best craft beers from within Ontario, but to also give some exposure to the great brewing that is going on in the rest of our vast country. Seasoned beer tasters and festival goers eagerly anticipate the chance to try something that isn't as readily available to them. We are satisfying that demand by ensuring there is a good mix of established brands, seasonal brews, one-off cask-conditioned ales, and out-of-province breweries.
Any concerns about the G20 Summit happening in Toronto on the same weekend having an effect on the event?
Of course we are concerned that the public eye will not be staring at the OCB week directly, due to a MAJOR global event. While global political powers are meeting and debating world issues, we will be having a great time on the waterfront with local beers, local foods, and great live music discussing the very pressing issue, "what is the best beer made in ontario….". There will be people looking to get out of the city and avoid the chaos of the G20; now they can spend a day at the beach, wandering through Sunnyside Pavilion, learning about craft beer, and meeting the hard-working brewers that make them. We hope that people can see this as an opportunity to get out of the downtown core and see what is going on in their city in the beer world.
Anything else you'd like to add?
This is day to celebrate the conclusion of the first Ontario Craft Beer Week. We are big supporters of responsible drinking, so instead of driving down here to Sunnyside Pavillion, we encourage festival goers to use public transportation. Another goal for the festival is to create minimal amounts of garbage: Our vendors are bringing only containers and products that can be composted or recycled. We understand that gathering a large crowd can often have a negative environmental impact. We are trying to be as proactive as possible to ensure our first year is a sucess.