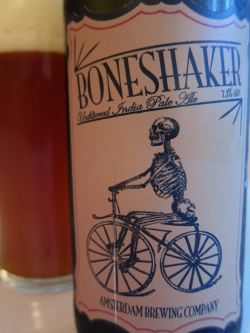 For this week's "Beer of the Week" column over on Taste T.O., I review Boneshaker IPA, a rather excellent new(ish) beer from Amsterdam Brewery.
Great to see brewmaster Jamie Mistry continuing to brew interesting seasonal and one-off beers – he's really turned things around at Amsterdam since joining a year or two back.
The column also touches on the debate regarding small beer samples – i.e. the little plastic cups you tend to get at festivals – and how valid they are for writing up proper tasting notes. I'm interested in hear other opinions on this, so feel free to comment there or here if you have something to say.