In my beer review column on Taste T.O. this week, I freely admit to enjoying Rickard's White, despite the fact that they might take my Certified Beer Geek card away for liking a Molson Coors product. It's certainly not the best Belgian-style wheat beer around – it's too sweet for one thing, and less nuanced than better examples for another – but it's still tasty, especially when it's fresh, and serves as a good fallback beer in the sort of places that haven't come around to the fact that there's more to beer than Molson, Labatt and a few big name imports.
Because as far as we've come in the current Craft Beer Revolution, we've still got a long way to go. For a lot of Canadian beer drinkers, Rickards White may be as close as they've ever come to a craft beer, in much the same way that a lot of American beer drinkers view Blue Moon Belgian Wheat, the Coors-owned beer that Rickard's White is based upon, as something really unique and out there.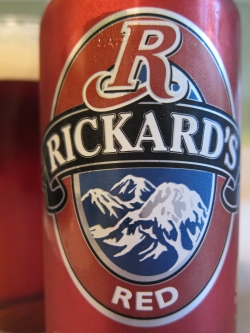 This is something I can relate to, as I had a similar reaction to another Rickard's beer around 20 years ago. While I was already familiar with the craft beer of the time from breweries like Brick, Formosa and Upper Canada, the beers I was drinking from them were mainly pale lagers. So the first time I saw Rickard's Red, I was confused and intrigued. A red beer? Who had ever HEARD of such a thing? And since the Molson connection wasn't well publicized at the time, I assumed that it was from some other small brewery like those others I'd been discovering.
I downed my fair share of pints and pitchers of the stuff back then, usually sitting on the deck patio at the Imperial Pub, but left it behind soon enough as my palate for microbrews developed further. I honestly can't recall the last time I ordered it in a bar or pub, and the only reason I'm writing about it now is because there was a can in the same Molson Coors promo pack that contained the Rickard's White and the light beers I covered a couple of weeks back.
Even after 20 years and literally thousands of other beers, I still find Rickard's Red to be an attractive beer in the glass, with a with a bright copper colour and a big and natural looking off-white head.  The aroma is simple – basic malt notes, a bit of caramel, a slight graininess, and no evidence of hops. The flavour is similarly unchallenging, and nowhere near the "flavour rollercoaster" promised by the commercial – just too-sweet malt, nondescript fruit notes, and a quick, blink-and-you'll-miss-the-hops finish. For someone used to nothing but pale lagers (just as I was two decades ago), it may represent a step into a new beer realm, but put up against a ever-growing selection of distinct craft beers available to drinkers today, it's fairly uninspired.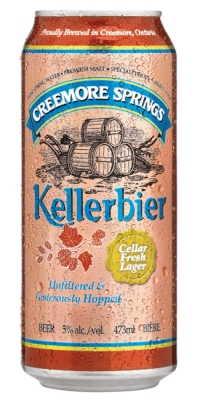 There's plenty of inspiration elsewhere in the Molson Coors brand portfolio, though, as found in the couple of cans of Creemore Springs Kellerbier that were also in the package. When I wrote about it on Taste T.O. soon after it was launched as a seasonal beer last summer, I described it as "one of the best beers to be launched in Ontario in recent memory," and I was glad to see it return for a second year.
I must confess that I drank the cans in the promo pack too quickly to write a proper review (or even take a picture – hence the generic image to the right), but my notes from last year are still pretty accurate:
It has a rich copper hue with the hazy body mentioned above, and a remarkably fresh and enticing aroma that holds notes of toasted grain, dried grass and juicy hops, along with a hint of yeast. The body is lightly carbonated, as is correct for the style, and while the flavour seems a bit muted if tasted straight from the fridge, giving the beer a few minutes to warm allows it to open up considerably, revealing a perfect balance between sweet, caramelish malt and pleasantly bitter hops, with a delicate suggestion of lemon zest in the finish. The yeast is also noticeable, but not overpowering, it just adds a well integrated depth and richness to the flavour.
Final thought: I wonder how the 20-years-ago version of me would've reacted to the Kellerbier? Considering how wild and crazy I found Rickard's Red at the time, I can only imagine – and at the same time, I'm both happy and jealous that today's young beer drinkers have the option, and many more besides.