Given my past record, I suppose I should've known better than to think I'd able to keep up a next-day diary during all of Toronto Beer Week. It went well enough for day 1, but then – well, it's now two and a half weeks later, and I'm just getting to day 2. Hardly seems worth it given that everyone else has finished writing about the whole week and have moved on to other things, but I'm not gonna let all the goddamn photos and notes I took go to waste!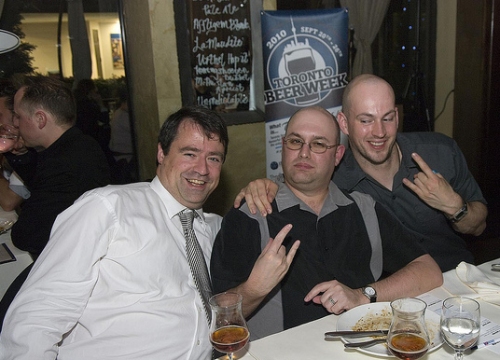 The most anticipated event for TBW for many folks was the BrewDog Brewery dinner at beerbistro, with co-founder James Watt flying in from Scotland to host. (He's the sly looking fellow on the right in the photo above, next to me in the middle, and Josh Rubin – beer writer for the Toronto Star – on the left. Photo courtesy of Stephen Gardiner.)
I imagine that anyone bothering to read this blog already knows about BrewDog's reputation for pushing the envelope of brewing and marketing with their super-strong beers, cheeky promo videos and media baiting. And it's hardly news that you can always expect something pretty great from a dinner at beerbistro. So let's skip the background and get straight to the proceedings…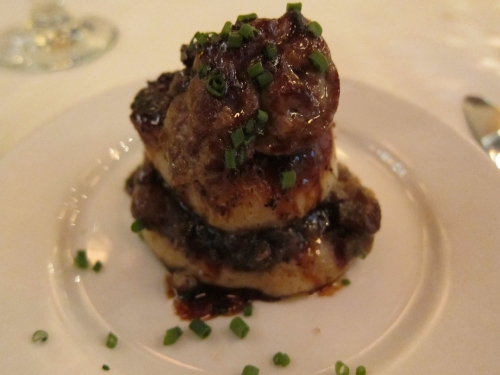 sea scallop, seared foie gras
walnut pancake, banana raisin compote
chocolate veal jus
paired with Trashy Blonde pale ale
Astute readers will notice that this dish shares some elements with the waffle course served at the Dieu du Diel! brunch a couple of days earlier. But considering that those shared elements include melt-in-the-mouth foie gras and a mindblowing chocolate veal jus, I wasn't complaining. Despite looking a bit of a mess, this was a delicious and decadent start to the meal, and the crisp beer did a great job cutting through the richness and sweetness of the dish.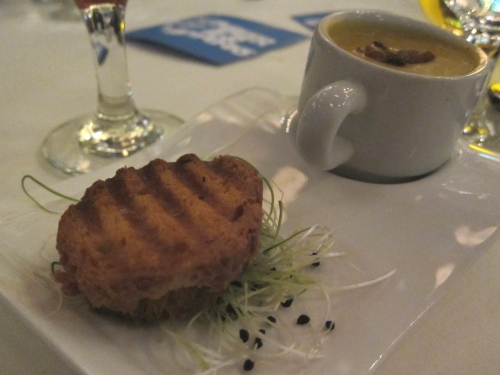 butternut squash soup
brioche grilled cheese & bacon
paired with 5AM Saint amber ale
Chef Brian Morin has served a mini-soup-and-sandwich course at almost every beerbistro beer dinner I've attended. Maybe he just digs the little plate and cup that's used to serve them? Whatever the reason, this was an especially nice one – the soup was loaded with so much aged cheddar that it was more cheese soup than squash, and the cheese and bacon sandwich was, well, a cheese and bacon sandwich – i.e. awesome. A nice pairing with the well-hopped but not too bitter 5AM Saint.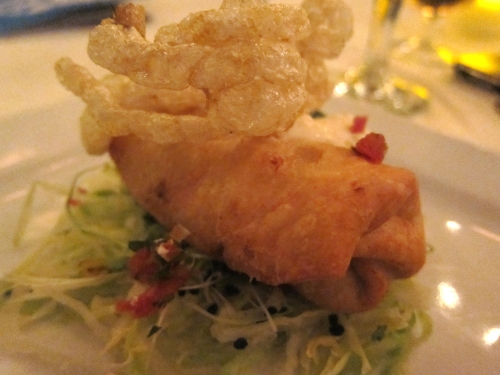 cumin coriander rabbit chimichanga
house-made feta slice
gueuze sour cream, fried pork rind
paired with Punk IPA
Have I mentioned lately that beerbistro beer dinners are not suitable for people on diets? In case not, here's a reminder – a deep-fried rabbit chimichanga with cheese, sour cream, and a fried pork rind. Oofah! It had a good spice kick as well, which the wonderfully hoppy Punk IPA held up against nicely.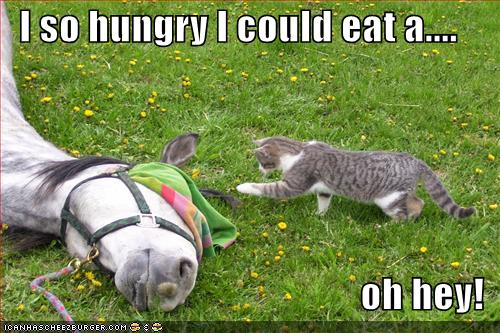 I somehow missed taking a photo of the next course, which was – as suggested by the LOL kitteh image above – horse. Specifically:
slow braised horse meat
potato truffle tortellini
roasted heirloom root vegetables
paired with Hardcore double IPA
Now, unlike some people, I don't have any great objection to the idea of eating horse meat, but I did have an objection to this specific dish: it was very dry and not as tender as a slow braised meat should be. I spoke to chef Morin afterward, and he said that he wasn't happy with the way it turned out either, and chalked it up to receiving and using a different cut than what he'd originally hoped.
Slightly tough meat aside, though, it still had great flavour, and the sides really held up their end of the bargain as well. As for the pairing, I must confess that my notes started to get a bit sketchy around this point of the evening, as they inevitably do, so I can't offer much more than to say I recall enjoying it.
To finish dinner, what's better than one dessert paired with one imperial stout? How about two desserts paired with two imperial stouts!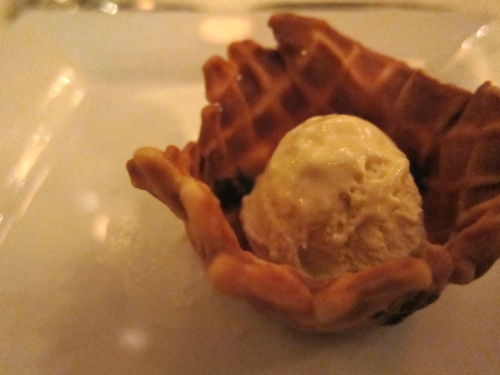 vanilla bean white coffee ice cream
bacon tuille
paired with Paradox Isle of Arran imperial stout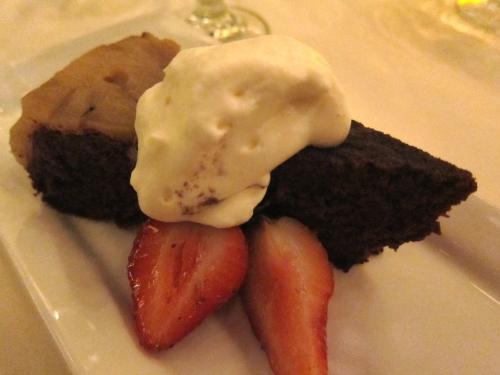 chocolate mousse cake
pear glaze, whipped cream
paired with Abstrakt AB:04 imperial stout
The first was almost a dessert appetizer – a small scoop of ice cream in a tiny bacon-flavoured tuille shell. This was perfectly matched with the Isle of Arran edition of Paradox, BrewDog's series of imperial stouts aged in whisky barrels, with the vanilla and mocha notes in the beer meshing well with the ice cream.
Then a real treat, as we were given the honour of being the first folks outside of the brewery to try the latest in the Abstrakt series of experimental one-off beers. Code named AB:04, it's a luscious stout brewed with coffee, cocoa and Naga chilies – or rather chili, as only a single one of them was used in the batch, and as they're considered the hottest chili in the world, it was enough to give the beer a nice mellow burn towards the back of the throat. The cake was fine as well, but it was the beer that got most of my attention.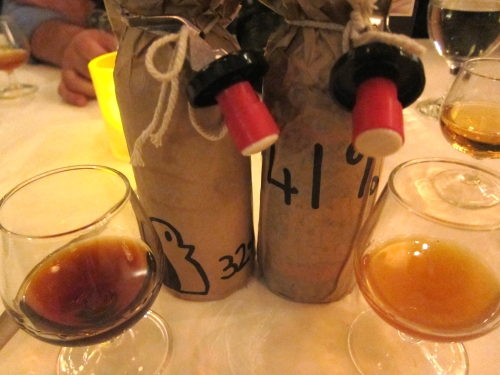 Finally, a hotly anticipated pair of nightcaps, and two previous record holders of the Strongest Beer in the World title – Tactical Nuclear Penguin and Sink The Bismarck.
I had the opportunity to try TNP last year, and provided some thoughts back then, but this was my first experience with STB, and I found it to be… interesting. Here's what I managed to scrawl about it:
slightly hazy rich gold colour – crazy over-the-top hop aroma – herbaceous, lemon – thick mouthfeel – hot flavour – ricola and hop juice – so bitter in the finish
Josh described it as a "hop liqueur", and that pretty much nails it.
Last but not least, it needs to be mentioned that Watt was a fantastic host who shared lots of great info and anecdotes about BrewDog and its brands, and even taught us how to talk to our beer the Scottish way.
After dinner, Josh and I had to hustle a few blocks over to C'est What, where we were two of the participants in "Not Always in Good Taste:  a beer writers-in-the-round", which basically consisted of a bunch of half-drunk beer writers – Stephen Beaumont, Nick Pashley, Ian Coutts, Steve Cameron, Troy Burtch, Aonghus Kealy, Robert Hughey, Josh and myself – sitting on stage answering questions posed to us by C'est What owner George Milbrandt about beer, and writing, and beer writing, and a few other things. Some of them being embarrassing things, if this photo is any indication: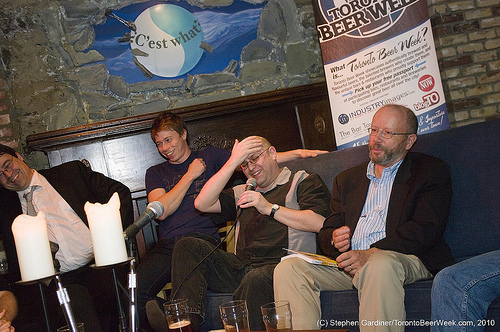 Generally, I think it went down pretty well. The turn-out was decent enough, especially for 10 PM on a weeknight, and no-one threw anything at us, which is always a good sign. Jordan over at St. John's Wort offered a bit of criticism, raising some points that George might want to consider if he brings it (or something similar) back for next year's TBW. And he singled out my mini-rant about the complete awfulness of Wellington Silver Wheat Ale as one of the highlights of the night, so he's obviously a man of great intelligence and good judgment.
After the on-stage yapping finished, I stuck around and did some off-stage yapping with a few folks, including a rather fetching young lady who works as a bartender at Bryden's (more on them in a post or two), and who helped improve my estimation of the state of beer service in Toronto today. Not only is this girl young, pretty and bright, she's also a burgeoning beer geek, raving about the new beers she'd been discovering recently, and bragging about the bottles of Three Floyds beers that she has in her fridge at home. If I were younger and single, I probably would've been totally smitten. (Although I'd also have to be thinner and less bald in order to have any sort of shot…)
I was planning to slip Wednesday's activities into this post as well, but seeing that I've cracked 1300 words, I think that's best held for the next one. As for when it'll actually be written, that's anyone's guess…