Yes, I know that I still owe you all several more Toronto Beer Week recaps. Although it's starting to get to the point where I'm almost embarrassed to be writing about it so long after it happened. So we'll see.
In the meantime – it's been a bit of awindfall of free beer around these parts lately, so I figured I should start writing about some of it before I get a bad name for myself as that goddamn freeloading so-called "beer blogger" who never keeps up his end of the bargain.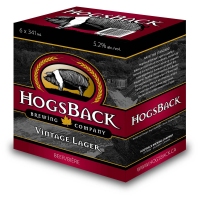 First up: HogsBack Vintage Lager from HogsBack Brewing Company, a fairly new venture that started up in Ottawa earlier this year. Like their fellow Ottawa newcomers, Kichesippi Beer Company, HogsBack has started as a contract operation, with their single brand being brewed for them at Cool Brewery here in Toronto.
Aside from where the beer is brewed, they've been a steadfastly local concern, selling their beer only on tap, and only in the Ottawa area. The first of those will soon be changing, though, as they're getting set to launch their Lager in bottles sometime in the next couple of months, with plans to sell it in six-packs at LCBOs in and around Ottawa.
A couple of weeks ago, Paige Cutland – one of the four partners behind HogsBack – dropped me a note saying that he'd be coming through Toronto and would like to drop off some bottles for me. I was expecting a couple of bottles, or maybe a sixer, so I was surprised when he showed up with a full case (fellow Toronto beer bloggers: I'll be in touch soon to share the wealth…), but it's given me a chance to try a few bottles to form a solid opinion of the beer.
And that opinion is: It's good. Not OMG BEST BEER EVAR!!!!!!! good, but also not one of those so-called "premium lagers" that is really just a very small step up from macrobrew.
It pours a pale gold with a respectable white head, very much looking the part of a "European-inspired lager" as self-described. Aroma starts with some husky malt with a touch of fermented fruit sweetness and clean grassy hops. The palate is a bit sticky/oily, and the flavour is a bit sweeter off the top than what I personally prefer in a golden lager, but it balances out in the middle as some of the huskiness suggested by the aroma comes through, followed by light but fresh and zippy Saaz hops in the finish.
So, like I said – good. Not something I'd travel to Ottawa for, but if I lived there, I wouldn't mind it being one of my hometown beers.