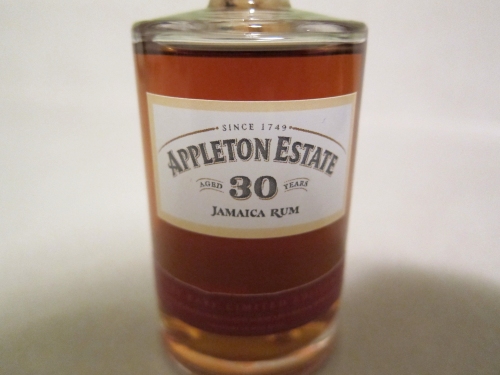 I'm generally not much of a rum drinker, but around this time of year, it tends to pop up in my drink rotation more often, usually mixed with a few glugs of egg nog and sprinkled with nutmeg. And of course, many of the cakes, cookies and other treats that my wife bakes for Christmas feature a healthy shot or three of rum as a key ingredient.
Using some good ol' Bacardi or Captain Morgan to mix or cook with is about as far as most people go with rum, but as I've learned on a number of occasions in the past couple of years, a high-end rum can be just as complex as a great whisky or bourbon. And like tequila before it, a few of those better bottles have started trickling into Ontario.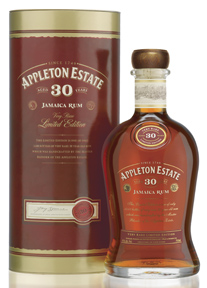 One of these is Appleton Estate 30 Year Old Rum, which can be found at a select few LCBO locations (LCBO 164103) in very limited quantities. In fact, it's limited all around, with only 1440 bottles available worldwide, and 644 for all of Canada. And as is usual in the world of high-end spirits, such rarity comes with a price – in this case $503.00 for a 750 ml bottle.
By my reckoning, that means the cute li'l 50 ml sample bottle that was sent to me has a retail value of $33.53 – or $6.58 more than the full-sized bottle of Sailor Jerry that I picked up on the weekend for holiday nog quaffing. But just as it's not fair to compare a scarce single malt to a mass-produced blend, so should this copper-amber liquid be ranked on a completely different scale from the Captains and Sailors of the rum world.
With that in mind, I poured it into my favourite whisky glass, and sniffed & sipped it like a single malt. What I found was a remarkably complex spirit that revealed an array of aromas and flavours including caramel, marzipan, orange zest, bitter cocoa, dark sugar, vanilla, cinnamon, clove, raisins and wood. The mouthfeel is soft and silky, and the finish is long and warm, but not as hot as expected given the 45% abv strength.
I was sad to reach the end of the glass, but also pleasantly satisfied. If I had the money to spare, I'd be tempted to pick up a bottle, if only to blow the minds of a couple of whisky-loving friends the next time we get together for a few drams.
As noted above, Appleton Estate 30 Year Old Rum is available in limited quantities in Ontario, as well as most other provinces. It's also available in the US, and perhaps elsewhere, but you'll likely have to hunt for it.