Over the last several months, I've received a number of books for review, but various circumstances have meant that I've barely had the chance to read them all in full, let alone give them each a proper review.
So with Christmas looming and lots of people scrambling for last minute gift ideas, I thought that a mini-reviews of a half-dozen of them might help solve some shopping dilemmas (assuming that you have a combination beer geek and bookworm on your list, of course) – and it will also help me clear my backlog of planned blog posts so I can get a fresh start in 2011.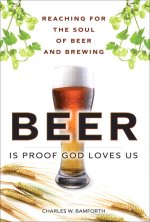 BEER IS PROOF GOD LOVES US
Reaching for the Soul of Beer and Brewing
by Charles Bamforth
FT Press – US$25.99/CDN$29.99
When I saw the title of this book – which references a quote attributed to Benjamin Franklin that's been proven to be false – I was disappointed that an author like Bamforth, who is one of the world's leading experts in the science of brewing and fermentation, would make such an amateurish error. But thankfully, the book opens with an "About the Title" page that debunks the myth, and what follows is an interesting and entertaining combination of social history, business analysis and personal memoir; all revolving around the idea of respecting beer in all of its forms, and the corresponding preferences of every type of beer drinker, from the weekend Bud boys to the hardcore hopheads.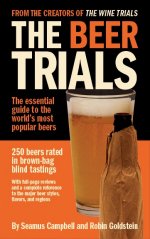 THE BEER TRIALS
The Essential Guide to the World's Most Popular Beers
by Seamus Campbell and Robin Goldstein
Workman Publishing – US$14.95/CDN$18.95
Created by the folks behind Fearless Critic, a network of self-described "brutally honest" restaurant review websites/guidebooks, as well as the similarly unbiased Wine Trials, this book is one of the most unique beer review publications I've seen. The 250 beer featured in the book range from discount macro-swill to high-end craft brews, and every beer was tasted and reviewed blind, with the tasters only knowing the style of the beers being sampled. The results are brutally honest as promised, and while many are given ratings and rankings that are unsurprising, there are also a few unexpected results on both ends of the spectrum, from mainstream lagers getting some love, to well-regarded craft ales getting dumped on. Even more entertaining are the mini-reviews of the beer labels and logos that were written after the tastings took place, and the introductory sections on the basics of beer – ingredients, styles, flavours and aromas – provide a nice primer for newbies.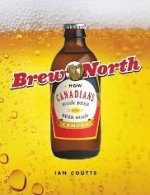 BREW NORTH
How Canadians Made Beer and Beer Made Canada
by Ian Coutts
Greystone Books – US$19.95/CDN$24.95
Considering the pride that Canadians take in our brewing history and culture, there's an unfortunate dearth of books exploring beer and brewing in our country. I can count all the ones I can think of on two hands, with perhaps a toe or two to make up the difference; but even if there were double that, it's woefully disproportionate to the number of tomes covering beer in other countries. This book is the latest – and in some ways, greatest – addition to that short list, providing a strongly researched, breezily written, and lavishly illustrated look at the Canadian brewing industry from the 1600s right up to today. It's quite simply a pleasure to read, and I reckon that any Canadian beer drinker would be thrilled to find it under the tree on Saturday.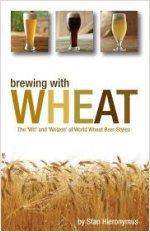 BREWING WITH WHEAT
The 'Wit' and 'Weizen' of World Wheat Beer Styles
by Stan Hieronymus
Brewers Publications – US $17.95/CDN$21.95
The title of this book, combined with the fact that it comes from the publishing arm of the Brewers Association, may suggest that it's intended more for brewers (both amateur and professional) than beer drinkers. And yes, it does feature a lot of beer recipes and many pages that describe the brewing process of various wheat beers in great scientific detail. But it also offers fascinating insight into the history, development and social importance of various wheat beer styles, from the well-known German and Belgian variations, to less common traditional styles like Goze, to the unique and often amped-up concoctions being created by modern craft brewers. And of course, the fact that Hieronymus is one of the best beer writers working today doesn't hurt either.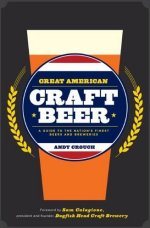 GREAT AMERICAN CRAFT BEER
A Guide to the Nation's Finest Beers and Breweries
by Andy Crouch
Running Press – US$24.95/CDN$31.95
As author Andy Crouch notes in a blog post written around the time of this book's release, attempting to represent the huge and remarkable range of beers being brewed in the United States today (currently estimated at more than 10,000 individual beers from over 1,600 different breweries) in a single volume would be pretty much impossible. But that said, the 350 beers reviewed between the covers of this nicely designed book give a great cross-section of the state of craft brewing in America today. The reviews are grouped into overall categories such as "Easy Drinkers" and "Heavenly Hoppy", then further grouped by style; and the 200 pages of reviews are bookended by chapters called "Exploring Beer" and "Enjoying Beer" that feature short vignettes on various aspects of beer and brewing culture. Of the six books reviewed here, this is one that verges on being an essential addition to any beer lovers' library.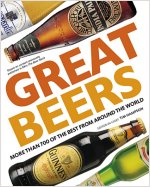 GREAT BEERS
700 of the Best From Around the World
edited by Tim Hampson
DK Publishing – US$15.00/CDN$17.00
Yes, this is yet another of those books featuring bottle shots and mini-reviews of hundreds of beers from around the world, most of which the average beer drinker will never get a chance to see, let alone taste. But these types of books are like beer porn for me – no matter how many of them I have, I never mind getting another one. This one features one page per brewery, with a little blurb about the brewery itself followed by review blurbs about one or (in most cases) two of their beers. Not something suited to a deep reading session, but the sort of book I usually have sitting on the side table when watching the tube to flip through during the commercials.