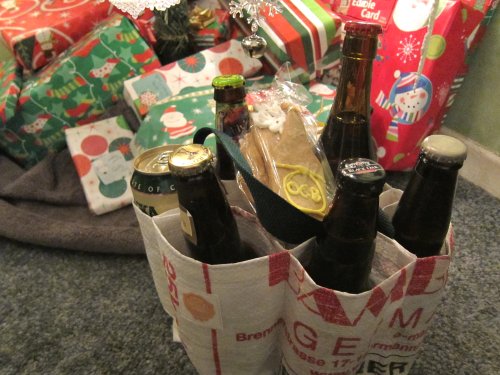 Just in time for the holidays, the latest batch of sampler packs to media from the Ontario Craft Brewers went out a couple of weeks ago – and interestingly, rather than just sending out their latest Discovery Pack, they did up one-off samplers in handy six-bottle/can carriers from the fine folks at CRAP, along with some tasty bottle and mug shaped cookies.
My package contained six beers that I'm quite familiar with – Beau's Lug-Tread Lagered Ale, Black Oak Nutcracker Porter, Cameron's Auburn Ale, Flying Monkeys Hoptical Illusion, Muskoka Cream Ale and Wellington Special Pale Ale. All nice enough quaffers. And quaff them I have – or most of them, at least, with the last couple sitting in the fridge to be downed soon.
Given my aforementioned familiarity with them, I haven't bothered taking any tasting notes – and honestly, most of them are beers more suited to drinking and enjoying casually rather than analytically. But thanks to the magic of RateBeer, I'm able to bring you some notes I wrote up about each of them in the past (with a few new comments & amendments as needed)…
Beau's Lug-Tread Lagered Ale (reviewed August, 2007):
Has a light gold colour with a small cap of creamy white head. Aroma is quite herbal, reminding me of some of the better Euro-lagers we can get at the LCBO. Body is crisp and light, I could see it being very refreshing on a summer day. Flavour is sweet too start – a bit too sweet, IMO – but the herbal hops come back in the finish, which is a touch too short for my liking. I haven't tried enough kölsches to say how on-style this is, but it's a nice enough summer ale.
Black Oak Nutcracker Porter (reviewed November, 2003):
Very dark ruby-brown colour with a thin tan head. Complex aroma of coffee, cinnamon, cloves, cardamom & pepper. Body is rich, smooth and slightly creamy. Roasty, toasty, nutty flavour with notes of chocolate and cinnamon.
[Note: While still technically accurate, these sketchy notes from my early days of beer reviewing don't really do this excellent beer justice. Of the bunch, this is the one that could bear the most analysis, should one be inclined to sit and contemplate for a while.]
Cameron's Auburn Ale (reviewed May, 2003):
Dark copper colour with minimal head. Aroma is sweet and malty with some dark fruit notes. The flavour is very full and sweet, with caramel, malt and hints of orange and cherry. Moderate bitterness in the finish.
[Note: This beer has been tweaked over the years, and is now less fruity and has a stronger hit of hops than my original notes suggest.]
Flying Monkeys Hoptical Illusion (reviewed December, 2009):
Rich copper colour and off-white head that look very inviting, and an equally inviting hit of citrusy Amarillo hops in the aroma. The awesome Amarillo notes also come through in the flavour, especially in the lingering finish, but are well balanced by some toffee-like malt. Nothing fancy going on, just a really nicely flavoured and exceedingly drinkable pale ale.
Muskoka Cream Ale (reviewed September, 2003):
Reddish-blonde colour with a nice white head. Sweet, fruity nose. Very smooth and creamy body, with nutty malt in the forefront of the flavour. Very pleasant.
[Note: Wow, another crappy early review. This is one from the pack that I haven't cracked yet, so I may have to make a point of taking some new notes…]
Wellington Special Pale Ale (reviewed July, 2003 & July, 2005):
[2003] Reddish-brown colour with a small head. Enough hoppiness in the aroma to make me expect this to be a decent pale ale, but the flavour is a real let-down – just a hint of bitterness in the finish, and otherwise pretty nondescript.
[2005] I think I got a pint that was slightly off the first time I rated this, 'cause I had a bottle today and found it much more enjoyable. The hoppiness in particular was a lot more pronounced than before.
[Note: Based on this latest try, it seems to have swung back to the "pretty nondescript" category – nothing wrong with it, just quite bland and uninspired.]