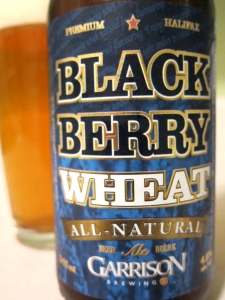 Garrison Blackberry Wheat isn't exactly the most seasonal beer to be drinking on a cool evening in March – quite literally out-of-season, in fact, as it's only available from the brewery in May through September, and this bottle was sent along with a few other east coast brews as an Xmas present by my brother-in-law in Halifax. So I can't even be sure exactly when it was brewed and bottled, aside from knowing that it's at least six months old. Not promising, especially for a 4.6% abv beer.
It still seems to be in good shape, though, with an inviting aroma of slightly tart blackberries and toasted grain malt coming off of the golden body and large white head. It's light and crisp on the tongue, and malt and berry notes come together in the flavour to evoke something close to blackberry pie, with a hint of orange and herbs joining in the subtly hopped finish.
Definitely one of the better non-lambic fruit beers I've tried, and hopefully I can convince my bro-in-law to send me a few in the summer when they're even fresher and more suited to the weather.