Each weekday this week, I'll be posting a pair of mini-reviews covering selections from the latest additions to the LCBO's Whisky Shop premium whisky program, and the products in the LCBO's Spring 2011 Specialty Beer promotion. Today's picks are a new variation on a classic bourbon, and a returning seasonal beer from a veteran Toronto brewery.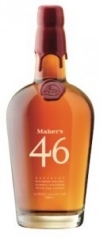 Maker's Mark 46 (LCBO 225565 – $49.95/750 mL)
Created by aging the original Maker's Mark bourbon for an additional few weeks in modified barrels containing charred French oak staves, Maker's Mark 46 (which is actually 47% abv, despite the name) shows a good deal more complexity than the regular brand. Spices in particular are more prominent – cinnamon especially, with lesser hints of clove and ginger – and there are also caramel, vanilla and dried apple notes that serve as connectors to the original MM. Burnt oak is also in there, but in more of a supporting role. I found the 47% to be just high enough to give more of a boozy burn than I usually like in the finish, so I don't know if I'd turn to this as a sipping bourbon, but in the right hands, it would make a fine cocktail.

Amsterdam Spring Bock (LCBO 208942 – $3.95/500 mL)
First brewed in 2009 based on a recipe developed by homebrewer Derek Hyde, Spring Bock has become a regular part of Amsterdam's seasonal beer program, and is now the first of those seasonals to graduate from being available only at the brewery store to LCBO distribution. This likely means that it's now being brewed in larger batches, but the quality doesn't seem to have suffered because of it. Dark mahogany with an off-white head, it has an aroma of sweet toasted malt, dark dried fruit, cocoa, a bit of smoke and wood, and light herbal hops. The flavour gives what the aroma promises, with nutty malt and bittersweet cocoa coming to the forefront as it warms. A great beer that is superior to other bock in the release, Höss Doppel-Hirsch (LCBO 106237 – $3.75/500 mL), in pretty much every regard – although to be fair, the latter has likely suffered somewhat due to having to travel from Germany rather than Bathurst and Lake Shore.