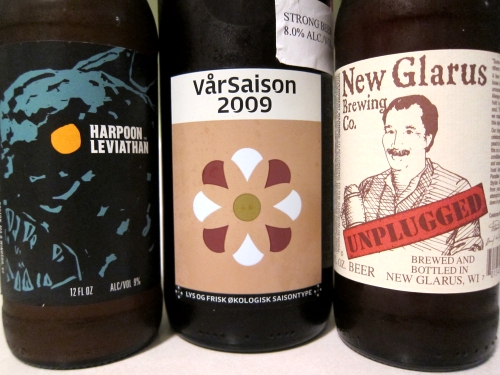 While the analogy is far from perfect, I look at saison in sort of the same way that Miles in the film Sideways looks at his beloved pinot noir. It's a style I love, and part of that love is rooted in the fact that it's a bit of an underdog, rarely seen and often under-appreciated.
It's also a style that historically wasn't really a style at all, but rather a name used to describe a variety of ales brewed for the workers at farms throughout Belgium's French-speaking Wallonia region. In more recent times, Saison Dupont has come to be considered a standard bearer of the style – deservedly so, as it's a fantastic beer – and the result has been a bit more predictability in terms of what you can expect from a beer that is tagged with the saison descriptor. Even so, it still remains a fairly flexible style, ranging from elegant examples with sweet and floral characteristics to more rustic versions that are tart and funky and at times almost lambic-like.
Saisons aren't seen in Ontario often, in either domestic or imported form. Saison Dupont has made a couple of brief appearances at the LCBO, and Black Oak makes a nice one every summer, but otherwise, it takes trips, trades or travelling friends to get your hands on some.
The trio of saisons pictured above have all come to me via friends and colleagues over the past year or so, and after storing them in the stash for a while, I've cracked into all three of them recently. Here's what I thought of them…
I believe the New Glarus Imperial Saison – the "Imperial" appearing in the name due to its relatively hefty 8.7% abv – came from my friend Rudy in Buffalo, and it's an rare treat given the limited distribution of most New Glarus beers, especially their "Unplugged" series that this beer is part of. It pours a nice copper-gold colour, and has an aroma that initially seems musty and papery, suggesting it was part it's ideal drinking window. Those notes soon clear, though, and are replaced with a pleasing and mellow combination of fruit (apricot, nectarine) and spice (ginger, clove), with a yeasty edge.
This pastoral aroma does little to prepare for the flavour, which is quite tart and acidic, with sour plum and under-ripe apple, a backing lemon juice note, an odd hint of oak (odd because I'm pretty sure this isn't a barrel-aged beer), and occasional hits of muddled spice and yeast as it warms up. It's doesn't come anywhere near the heights of New Glarus' legendary pair of fruit beers, Belgian Red and Raspberry Tart, but it's still a nicely nuanced and satisfying brew.
VÃ¥rSaison comes from Nørrebro Bryghus, a Danish brewery which recently had five of its beers featured at the LCBO in a special brewery spotlight, although this wasn't one of them. This bottle instead came to me in a promo pack from importers Roland + Russell at some point last year, and looking at the back, I see that it was bottled on March 12, 2009, with a best by date of March 10, 2011, so ideally, I probably should've gotten to it sooner. But as the ugly LCBO mandated sticker on it clearly attests, this is an 8% beer, which makes it a good candidate for at least moderate aging.
On opening, it's a bit of a gusher (something that seems to have affected a good number of bottles based on the reviews on RateBeer), and the tart and bracing aroma is obvious before it even leaves the bottle, suggesting some serious wild yeast action. The pour goes smoother than expected given the initial rush of foam, with a good sized but not unruly cap of off-white cream sitting on a hazy burnt sienna body.
Once in the glass, the nose remains tart, sour, acidic – whatever you want to call it – with a lot of fruit character, especially apricot and lemon. The same notes hit in the flavour, which is almost lambic-like, albeit with less of barnyard funk and mustiness that defines that style. Later in the glass, the tartness recedes somewhat, and a more earthy and woody character develops, and the apricot becomes more prominent in the finish, where it's joined by some pineapple and lychee.
I'm honestly not sure if this beer was intended to be quite so sour and wild. But even if it was an accident caused by a rogue yeast or other bacterial beasties, it was a happy accident, and not one I'm going to complain about.
Finally, there's Harpoon Leviathan Saison Royale, the "Leviathan" designation being the umbrella name for a series of strong beers by Harpoon. At 9.0% abv, this hazy golden-orange beer is certainly strong in alcohol, and it's equally strong on the nose, with big fruity esters – pineapple, mango, orange – and a bit of spice.
The flavour follows the aroma, with leading tropical fruit notes giving way to a dry and slightly peppery spiciness. A curious suggestion of persimmon also comes through, along with hints of coriander and citrus zest, and a fairly subtle yeast flavour combining with herbal hops and a slight booziness in the finish.
So are all three of these good saisons? That might depend on how liberal your definition of the style is, as despite having a number of similarities, they're all quite distinct in many ways. But even if none of them fit the style perfectly, they're all great beers, and that's the most important thing.