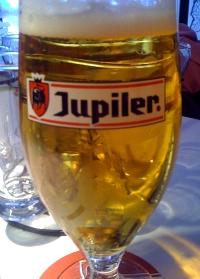 Earlier this week I got a sneak peek at some new items on the food menu at Bier Markt – the highlights of which I've covered in a post over on Taste T.O. – and launching at the same time was the latest exclusive addition to their draught beer line-up, Jupiler Lager.
I'm well aware, of course, that Jupiler isn't exactly held in the highest regard among serious beer drinkers, as typified by a response to one of my tweets that evening reminding me that it's "the Coors of Belgium." And yes, it's a bit unfortunate that it's position as Belgium's top-selling lager gives the marketers an opportunity to give it a higher cachet than it may deserve.
Still, as far as mainstream mass-produced lagers go, it's fine enough. The mild  herbal edge in the aroma indicates that there are actually some hops in there, and while the flavour is simple, it's also clean and mostly balanced, with pleasant lightly toasted grains off the top, and a smidgen of cut-grass hops joining in. However, it falls short in the finish, where the corn that's added as a adjunct makes itself known very clearly and much too sweetly.
So no, it's not a great beer. But it's not an awful one either, and as I note in my Taste T.O. write-up, the folks who like Stella and Heineken will be more than happy with it.